Digital
Building a Customer-Centric Website
Challenge
Fairchild Semiconductor is a Silicon Valley icon, founded in 1957. A pioneer in transistor and integrated circuit manufacturing, Fairchild is responsible for some of the inventions that launched the computer age. Today, they remain one of the leading semiconductor manufacturers in the world. However, their website design did not deliver an engaging user experience and was not optimized for mobile, nor did it adequately express the company's position as an innovative, market-leading technology brand. It was time to make a big change to a customer-centric website approach that showcased this legendary brand.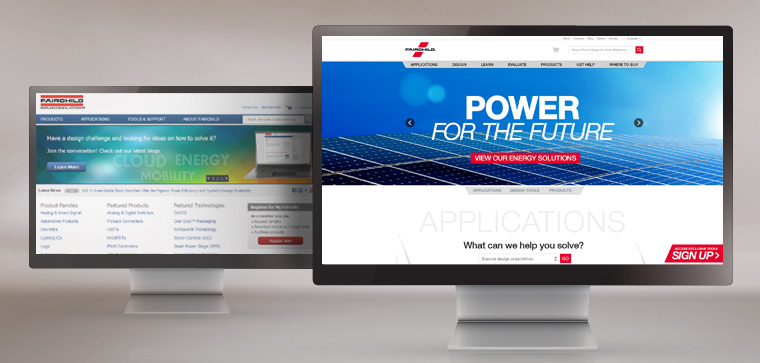 Strategy
We took a comprehensive approach to redeveloping Fairchild's website, mapping out a new strategy for engaging key audiences. Through our comprehensive discovery process, involving stakeholder interviews and a thorough analysis of audience needs, we re-envisioned the website design in a way that mirrors engineers' planning, research and purchasing processes, embodying a customer-centric strategy within the site's content and architecture.
The new customer-centric website design quickly and powerfully communicates that Fairchild is:
A leading and innovative technology company
Focused on partnering with design engineers to power their projects
The new site architecture brings Fairchild's interactive tools to the surface, helping engineers plan their projects and begin the purchasing journey.
Additionally, we mapped out a set of optimized conversion paths, contextually driving visitors deeper into the site experience.
The mobile-friendly, responsive website invites engineers to access information as they begin their designs, and to continue to work with Fairchild as their projects come to fruition through sourcing, selection and purchasing, creating a mutually beneficial partnership.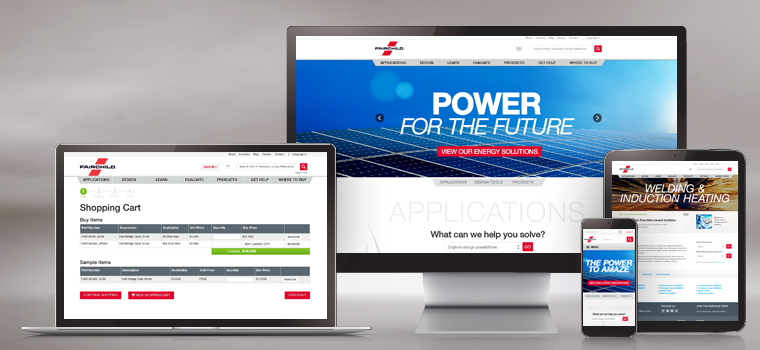 The new website is fully responsive, delivering a high-quality experience across all devices. Fairchild.com leverages coding best practices to maximize the content management system while ensuring performance optimization and maintenance efficiency. Fairchild had purchased a CMS platform before the project began and handled the final implementation in-house. The Mx Group planned page flows and developed designs and template code based on the specifications of this system, while establishing a seamless workflow process with the client's in-house technical team.
Ready to make a move toward a more customer-centric website for your company? Get in touch with an Mx expert. If you want to stay up to date with B2B industry insights, subscribe to our blog.
Looking for a partner?
We help brilliant B2B businesses think bigger and perform better. Don't hold back; bring us your toughest challenges.
Let's Talk!
Looking for a career?
We're drawing more top talent to our team every day. Come be a part of the biggest thing happening in B2B.
View Job Openings