News
Two Big Killer Content Award Wins!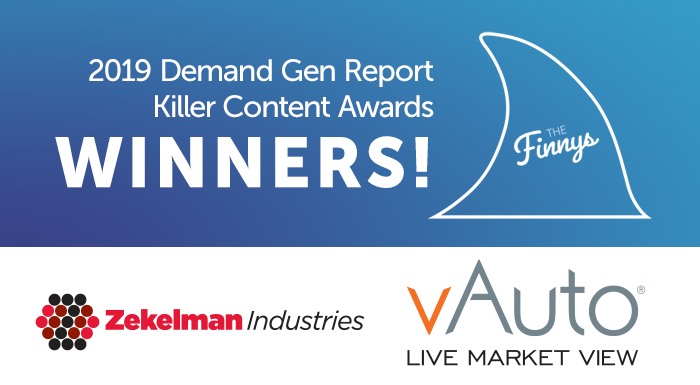 We were doubly as excited this year to accept two 2019 Killer Content Awards with our clients vAuto and Zekelman Industries on February 26 at the B2B Marketing Exchange (B2BMX) conference in Scottsdale, Arizona. The awards, known as the "Finnys," spotlight companies that are embracing new rules of engagement, transforming them into cutting-edge campaigns, and utilizing new storytelling and amplification channels.
Calculating potential profit gains
One of the awards recognizes our work creating vAuto's Stockwave interactive gross profit calculator, designed by the digital team here at The Mx Group. This tool was designed to fulfill the vAuto team's commitment to CEB's Challenger Selling™ model, particularly the critical "rational drowning" step in the sales choreography. Prospects can use the calculator to create their own compelling, inarguable case that Stockwave would make a significant difference in their overall success.
The interactive calculator exceeded all expectations, as it has helped vAuto not only attract mid-funnel prospects, but also educate the market on Stockwave's most compelling promise: to increase car dealerships' gross profit by showing dealers the most profitable cars they can buy at auction.
Telling an industry's story
The other Finny recognizes Zekelman Industries' "American Metal" integrated campaign for its design concept and theme.
The campaign was designed to inspire support for domestic manufacturing — particularly the steel industry — and the workers whose livelihoods depend on it. The campaign consisted of 45 documentary-style videos, a campaign microsite, a blog, national TV media with 30- and 15-second commercials, sponsorship ads on SiriusXM radio, an email series, direct mail, a full social media program, infographics, and a 32-page ebook, to illustrate the use and impact of steel in the world around us.
The comprehensive "American Metal" messaging created a movement within the industry. The company has received overwhelmingly positive responses from customers, employees, lawmakers and industry professionals alike. This campaign has positioned Zekelman as a thought leader in the support of American-made products.
To learn more about both of these award-winning projects, visit the "Our Work" page, or give us a call today at 800-827-0170 to discuss how we can help you create your next integrated campaign or interactive tool.