B2BMX 2019 Gold Sponsors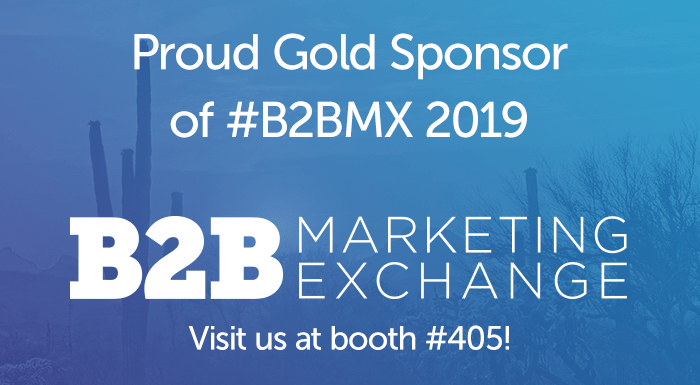 We are excited to once again be a Gold Sponsor of the B2B Marketing Exchange (B2BMX), hosted by Demand Gen Report in Scottsdale, Arizona, February 25–27, 2019! At this three-day conference designed for high-performance B2B marketers, The Mx Group will have representatives running a workshop and a case study,  and we'll be providing insights at the "B2BMXpert Bar."
On Monday, 2/25, at 9:30 a.m., our own VP of marketing & strategy, Kellie de Leon, will moderate a two-and-a-half-hour workshop, providing insights and real-world ideas on buyer-centric marketing.
She will guide workshop attendees through the key steps B2B marketers must take to ensure they are connecting with buyers and prospects on their terms.
At this workshop, attendees will learn about different ways to:
Gather buyer insights to enable buyer-centric marketing
Develop a tailored website experience for better conversions
Engage buyers and enhance data collection with interactive content
Develop buyer-centric nurture journeys that position you as a partner
On Monday, 2/25, at 2:20 p.m., our client Jessica Norman from Siemens and The Mx Group Senior VP Tony Riley will present a case study discussing the secrets to the success Siemens has achieved in designing demand gen campaigns that have heavily depended on tight sales and marketing alignment.
We plan on having some great marketing discussions and a few laughs with attendees at our booth (#405) again this year. We're bringing a new, fun and thought-provoking game called #B2BMemes. Players will write captions to connect their marketing expertise and experiences with photos to create what are bound to be some hilarious memes. Winners will take home a Sonos speaker!
If you plan on attending, or would like more information about joining us at B2BMX, please get in touch!