News
The Mx Group Named a Chicago Tribune Top Workplace for 2017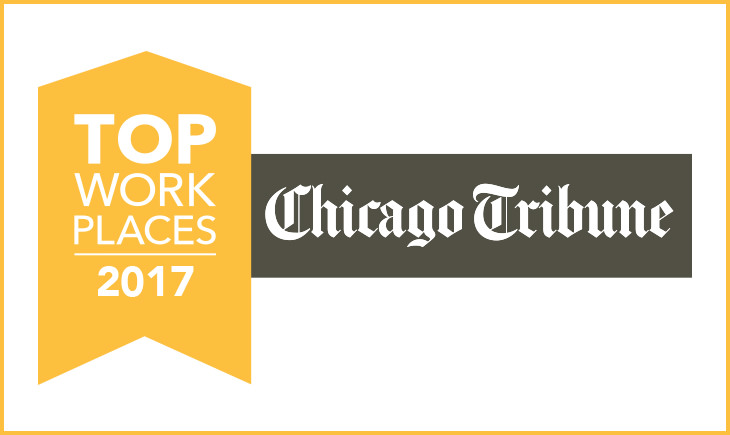 CHICAGO (November 9, 2017) — For the second year in a row, The Mx Group, a digital and demand generation agency, has been recognized as one of the Chicago Tribune's Top Workplaces. Winners chosen for 2017 honors were selected based on an employee feedback survey about workplace culture and satisfaction administered by Energage LLC (formerly WorkplaceDynamics), a leading research firm specializing in organizational health and workplace improvement.
The Mx Group adds the honor of being included among the Chicago Tribune's Top Workplaces to an extensive list of awards, including being named one of the Best Places to Work in Illinois for the past four years and one of Chicago's Best and Brightest Companies to Work For® two years in a row.
The company's culture not only helps The Mx Group earn recognition; it has enticed several employees to return. Kim Ostrowski was part of The Mx Group for four years before leaving to test her wings at another agency. Explaining why she came back: "I missed the whole atmosphere at The Mx Group: being part of a group of people where we all feel comfortable asking each other questions, where I know everyone is accountable and wants to get things done right. I really feel I can depend on them all."
Cristina Sarnelli, a two-and-a-half-year veteran of The Mx Group who returned after employment elsewhere, elaborates: "Here, there's a sense of camaraderie and teamwork I just didn't find when I went away. The management team is interested in you, and wants you to develop and grow. So when my previous manager at The Mx Group asked me if I wanted to come back, I had to."
Responding to news of the award, Andy Mahler, CEO and co-founder of The Mx Group, says: "Being included in the Chicago Tribune's list of Top Workplaces for two back-to-back years is an honor. We've always known our employees are the key to keeping our business successful. That we are consistently recognized as a great place to work shows us we're on the right track."
To learn more about what it's like to work at The Mx Group and to view open positions, visit TheMxGroup.com/careers.