Three Ways to Make Your Company a Best Place to Work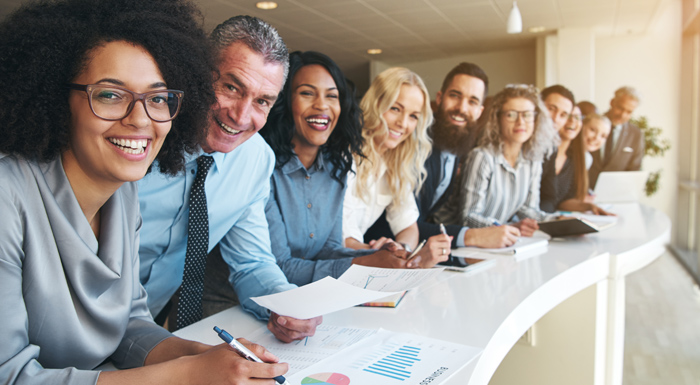 Recently, we received some great news: The Mx Group was named one of 2016's Best Places to Work in Illinois! We've received this award every year since 2014, but we're just as thrilled as ever to win this year.
Ever since the announcement, I've been thinking about what really makes a company a Best Place to Work. As an HR professional, I know it's easy to think that the best perks make the biggest difference. Perks are flashy, they're fun … and, true, our employees do appreciate our craft beer fridge and Friday summer hours.
But in the end, being a Best Place to Work is about making your company a place your employees actually want to spend most of their day. And if you're wondering what that might look like, these three tips are a great place to start.
1. Invest in Becoming a Best Place to Work
A workplace culture that employees love doesn't happen by accident. You have to be intentional. You have to decide it matters — and then invest in getting your people what they need. High-quality tools, robust benefits, fun events to break up the pace: These things all matter, and making them happen is a conscious choice.
Yes, that sometimes means spending money. Vacation days, 401(k) matching and tuition reimbursement don't come free, so you'll need to find room in your company's budget. But to make your team feel valued, taking care of them should be your No. 1 priority.
I know not every company has the same budget as, say, Google. The amount you invest in tools, technology and benefits might vary based on company size, budget and team needs. Still, you can — and should — do what makes sense for your company.
2. Listen — Then Act
No one wants to feel like a cog in a machine. Your employees want a feeling of ownership in your company. They want to know that their opinions matter. And that means you have to listen to them.
An annual survey is a great way to start gathering feedback from your team. At The Mx Group, we hold monthly company meetings where anyone can ask management questions, either face-to-face or through an anonymous survey. There are plenty of ways to give your team their say. Online surveys, a company suggestion box, low-pressure check-ins with HR: whatever works for you.
But it's not enough to ask for feedback; you have to act on it, too! True, it's impossible for any company to fulfill every employee request. But if you're getting the same feedback from multiple people, and it's a problem you can fix, it's important to follow through.
For example, several employees recently asked me and my team about employee assistance programs. We researched available plans, and when we found that it was an easy, cost-effective option for us, we signed up. Our EAP began in May — and our team knows we take their suggestions to heart.
3. Trust Your Team
Some companies act like their employees are trying to get away with something. They reprimand people for coming in 10 minutes late, or they make sick employees bring in doctor's notes. But if you trust your team, there's no need for micromanaging.
We know our team does more than come to work. They have kids to take care of, houses to close on, doctor's appointments to attend. So we offer flexible scheduling, because helping people meet their personal commitments doesn't mean balls will be dropped. In fact, we believe the work will get done better.
When I work from home or leave early — and I do — my team knows they can trust me to fulfill my commitments. Not too long ago, my daughter competed in her school's spelling bee … at 11 a.m. on a Wednesday. I was able to work from home and duck out for an hour to cheer her on, then make up that hour in the evening to keep work on track. We know our employees have both personal lives and work lives — and we make balancing the two a priority.
Creating an employee-friendly company culture is more than just a nice-to-have; it's good business sense. The right environment makes it much easier to attract and keep great talent. It also keeps our team engaged, which is great for our bottom line.
We're always proud to be recognized as an outstanding workplace, but at the end of the day, it's about so much more than a plaque. Being named a Best Place to Work is about being a best place to work, with employees who love working here year after year.
(And if you want to join a Best Place to Work, good news: We're hiring! Check our open positions.)