News
The Mx Group Awarded B2B Agency of the Year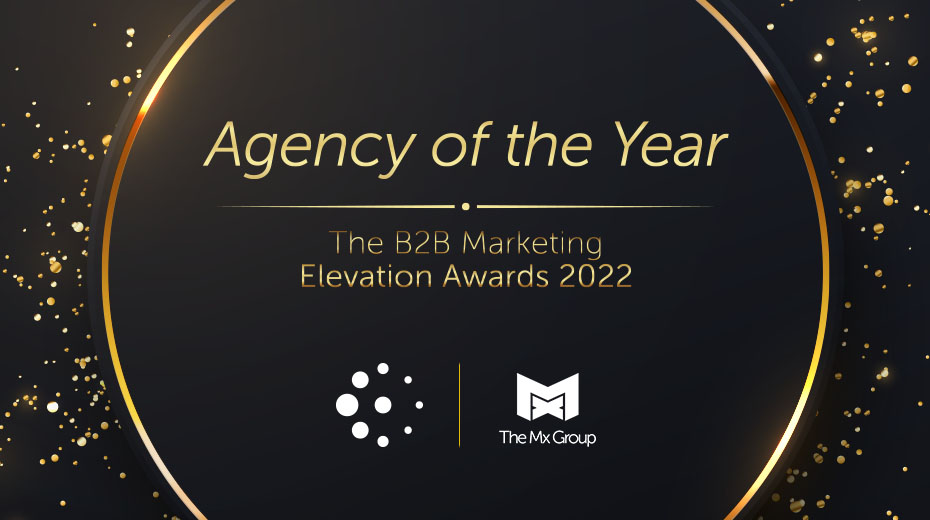 The Mx Group was recognized as Agency of the Year by B2B Marketing at its annual Elevation Awards. The Elevation Awards celebrate the very best in B2B — the agencies, clients, talent and campaigns displaying the greatest innovations in marketing.
"This is a recognition of the work Mx'ers put in each day and an acknowledgment of the relationships built with our clients," commented Tony Riley, president and CEO of The Mx Group. "The award is a validation that a deep understanding of a client's business can deliver impact in a changing economy and an evolving industry. It's another signal that our vision of B2B at scale and our dedication to the B2B discipline are sound."
Relationships That Drive Results
Twenty-five client-side B2B industry judges awarded the recognition to The Mx Group, citing our investment in our people, partnerships and our focus on those relationships to achieve dramatic results for our clients' businesses. In fact, one of our clients, Envoy, won gold at the Elevation Awards in the category of "best use of customer insights" with our "Brand to Demand: Rework, Work" campaign. The judges are exclusively senior client-side marketers from B2B brands. They are selected by invitation only, from industry experts across the B2B marketing field and included directors, VPs and CMOs from tech startups, established multinationals and Fortune 500 companies.
"It was a great pleasure to finally present the winners of the Elevation Awards with trophies live in Chicago, a city which is the true birthplace of, and home to, B2B marketing. The Mx Group were worthy and fantastic winners of the prestigious Agency of the Year category, rising above strong competition from some outstanding rivals. Congratulations to Tony and the team on a wonderful win!" – Joel Harrison, editor-and-chief at B2B Marketing.
We did not win this award alone. B2B Agency of the Year was made possible by the commitment of our collaborators, global agency and media partners, clients, and of course the talented B2B experts that call The Mx Group home. It is through their insights, ambitions and innovations we can call ourselves the B2B Agency of the Year.