Creative is the cornerstone of everything we do at The Mx Group. We combine persuasive content marketing with an aesthetic punch to cut through the noise and catch the attention of your target audience. And a partnership with an agency like ours isn't just nice to have — it's a smart business investment. Our creative solutions make an impact on our clients' businesses every day.
Creative is the biggest driver of financial performance and is a major multiplier on profits.
Creative Services for Successful B2B Marketing
We've helped marketers across industries launch and elevate their brands to build loyalty. We'd love to do the same for you. Our solutions include:
Collateral: From white papers to infographics, we write, design and produce a wide range of content for all your marketing needs.
Event marketing: Our experts design trade show booths and promote events through multiple channels to draw attendance and help you make memorable connections with customers and prospects.
Print advertising: We create powerful print ads that complement your marketing campaign efforts.
Direct mail: Our team develops direct mail campaigns that inspire action. We handle it all, from design and printing to fulfillment and shipping.
Interactive content: We develop a variety of interactive demos, games, data visualizers and other content to drive engagement with your prospects.
Video production: Our in-house video team creates compelling videos that capture attention and drive results.
Why We're Your Ideal B2B Creative Agency
We take a unique approach to creative. We recognize that your buyers are, first and foremost, people. They use both their brain and their heart to make business decisions — and so do we. We always start with a solid marketing strategy. Then we develop and distribute creative content that tells memorable, compelling stories across multiple channels — through interactive content, social media marketing, print and more — to inspire businesses to take action.
B2B Creative for Your B2C Brand
If it's time to launch a B2B version of your B2C brand, your creative ambition shouldn't change. In fact, your B2C and B2B marketing efforts should feel pretty similar — they just have different stories to tell. And because B2B comes with longer sales cycles and more stakeholders, the B2B digital experience requires an especially strong infrastructure. At The Mx Group, we understand all these nuances and deliver creative solutions that guide your target audience toward your product or service. That's why so many B2C companies depend on The Mx Group to launch their B2B brands. Maybe yours will be next.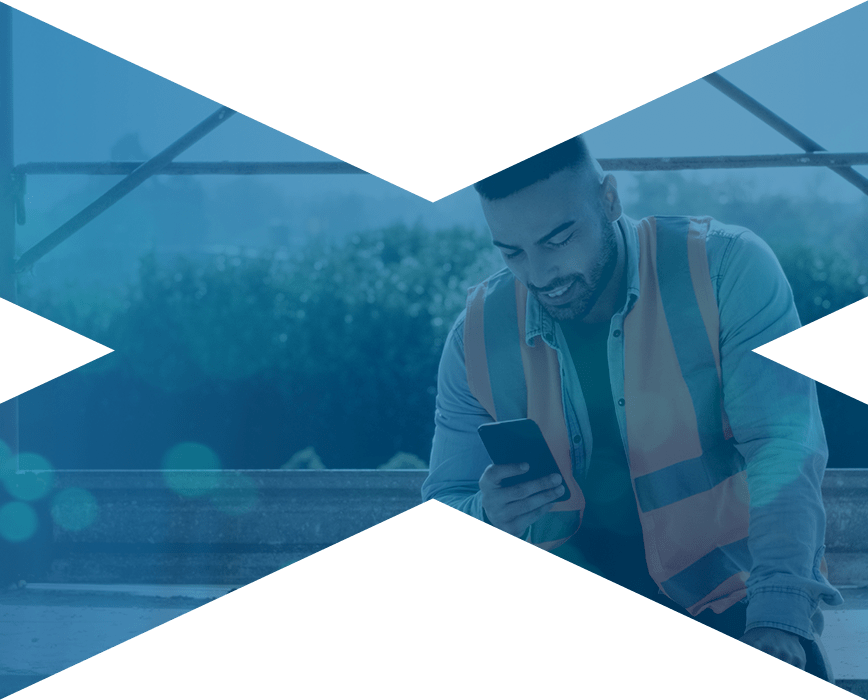 Case Study
We helped UScellular communicate its 5G capabilities through a new brand identity and B2B content that increased engagement on its business website by as much as 200%.
SEE MORE OF OUR CREATIVE MARKETING EXAMPLES
We've done it all — from award-winning brand development to marketing campaigns that drive demand.
See our work
Ready to talk?
Let's get your target audiences' attention.
Contact us
Frequently asked questions about B2B creative:
Q. How do you make B2B content interesting?
A. It's important to remember that B2B creative is both rational and emotional. B2B doesn't mean you lose emotion or personality. In fact, B2B marketing is as much heart as brain: Our careers are personal and often central to our identities. Making a B2B buying decision is rational, but also personal and emotional. To make B2B creative interesting, focus on your audience's pain points, tell a compelling story, be relevant to your audience's needs and create easy-to-consume B2B content. Learn more about our B2B creative insights.
Q. What should I look for in a B2B creative agency?
A. To select a great B2B creative agency, first ensure the work speaks for itself. Look for case studies that blend both compelling creative and strategic impact. That's why, second, it's important to ensure your B2B creative agency starts with a solid B2B marketing strategy. Beautiful creative that no one sees or engages with will not deliver impact. Finally, look for client testimonials and ask your network about their experiences with the agency. Does the B2B creative agency deliver impact? Does it stay on schedule? Do its teams take direction well? And just as important, do they push back when necessary? Does it feel like a strategic partner or simply a service provider? Answering these questions will help you determine if the B2B creative agency is the right fit for you.
Q. What is The Mx Group's creative philosophy?
A. Today's B2B brands need ideas that impact audiences memorably and emotionally and can carry them through complex buying processes involving multiple stakeholders. It takes an incredible amount of creative freedom and confidence, not to mention authenticity, curiosity and commitment to the team. Our culture nurtures an environment in which all team members can be themselves, be vulnerable, share ideas and support each other, fostering strong relationships within the Creative department. Our creatives are empowered to unite their creative passions with their deep knowledge of clients' brands and businesses and create breakthrough work.
Q. What is your creative process?
A. Our creative teams follow a structured creative process:
Creative briefing: We align our internal team on the objectives, purpose and vision for the work to be done. Our Strategy and Creative teams collaborate to create the brief, then kick off the project with the broader team to ensure input and alignment.
Client input and alignment: We share the brief with the client stakeholders to check for accuracy and alignment with the project goals.
Ideation and internal review: The Creative team gathers any additional background information and begins ideating possible creative paths, revisiting the brief as needed to ensure work aligns with the overall strategy. Ideas are bounced off other members of the project team to gauge resonance or "click" of the concepts. We further refine these initial ideas and, when ready, develop them into a presentation for the client.
Client presentation: We present the creative concepts and overall strategy to the client stakeholders. Feedback and discussion are encouraged, resulting in agreed-upon next steps.
Approval and development: We refine and adjust the concepts and share back with the client. Once the final concept is selected and approved, our copywriters, art directors and other specialists produce the end deliverable.
Measurement: Once in market, we measure results and identify areas to improve going forward.