What's Your Digital Type? Mx'ers Explore at In-house Workshop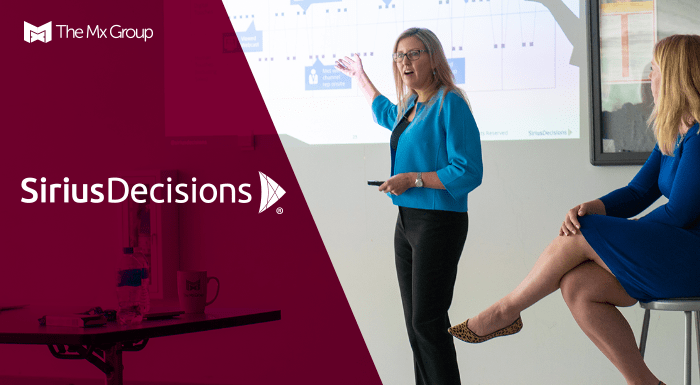 Recently, members of The Mx Group's management, client service and digital development teams attended an in-house workshop with guests from our partner SiriusDecisions on the topic of digital transformation and digital type. SiriusDecisions Senior Research Directors Carrie Rediker and Cheri Keith led the session, urging us to think differently and quite specifically about our B2B clients when it comes to what they sell, how they sell it, and how that will affect the scope of a digital transformation.
In addition to sales specifics, a company's organizational structure, budget, technology and employee experience / mindsets all play roles in determining what type of digital transformation it's ready to go through, and how that transformation will affect the company's goals.
Digital Type Descriptions
SiriusDecisions recommends that companies start by determining their "digital type," to help guide their digital transformation plans and processes. The digital types include "Digital First," which describes organizations that primarily rely on digital methods to provide the marketing reach, scale and cost-effectiveness they need for success; "Digital Support," which describes organizations that use digital methods to support sales by generating and nurturing leads and accelerating opportunities; and "Digital Hybrid," which is a model designed around specific business needs.
Once their type has been determined and agreed upon, organizations should map their customers' current and desired digital behavior, and develop a digital model. The model should specifically spell out (by department) the functions, roles, processes and technologies that need to be in place to support the company's digital type and digital buyers' journey.
During the workshop, Mx'ers completed an identification and evaluation exercise to determine the digital types of some of our clients. It was a great way to put SiriusDecisions' framework into action.
Success in Steps
Digital transformation is a huge concept that can seem overwhelming. But using outside resources, whether it's a framework or model like SiriusDecisions' digital type, or a hands-on partner like The Mx Group, can help you think differently and break your transformation effort into manageable steps. While digital transformation can feel like a new trend, we've been thinking about how to use technology to transform B2B sales and marketing for over 30 years. We've had our successes and setbacks, but we keep moving forward — and we keep moving our clients forward as well. We've recognized that in addition to breaking projects down, you also need to have the right talent on board to make a digital transformation project work, be it large or small. Our team of digital marketers and software developers is always looking for ways that digital tools like websites, software, interactive content and mobile apps can transform and improve the B2B buying and selling experience.
SiriusDecisions & The Mx Group
We've been a SiriusDecisions partner for nearly five years, and have extensive experience successfully implementing their ideas and guidance into our clients' strategic marketing plans. We share some mutual clients, we are active in their demand marketing and ABM practices, and we work together several times a year to create new B2B marketing content on topics like personas, the Demand Spectrum and web conversion optimization.
For those of you who are unfamiliar with SiriusDecisions, it is a global B2B research and advisory firm that provides consulting and learning services to help executives improve the performance of their sales, marketing and product strategies. For more than eighteen years, they've been providing thousands of B2B clients with sound advisory services, and one of their recent studies shows that Sirius clients grow 19% faster and are 15% more profitable than their peers. Recently, SiriusDecisions was acquired by Forrester Research.
If you're a B2B marketer who wants to learn more about how to create a digital transformation strategy, and you want to start with determining your digital type, buyer journey mapping and digital modeling, please get in touch. We'd be happy to share our experience and expertise with you.