Top 10 B2B Marketing Resources & Tools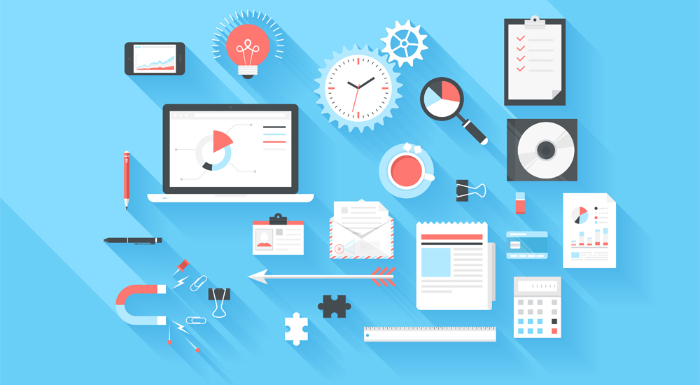 The marketing industry is constantly evolving, which means there are many dynamic processes and trends you have to stay on top of in order to remain a savvy marketer.
You need to be knowledgeable about a broad array of concepts and strategies, so it's important to have a go-to library of resources and tools to help you stay on top of your game. Whether you are researching meaningful facts and stats, seeking inspiration for new content or simply looking to keep up with the latest trends, here are ten B2B marketing resources and tools I recommend:
1. Marketo
Marketo is a SaaS platform designed to help B2B organizations automate and measure marketing engagement, tasks and workflows. With Marketo you can centralize all your digital marketing campaign emails, landing pages and other marketing materials. Additionally, built-in management tools help you organize and track these marketing campaigns to maximize their impact. Marketo's blog provides a wealth of information on marketing automation topics, tips and trends.
2. SiriusDecisions
SiriusDecisions is a research and advisory firm that provides B2B businesses with strategies on many marketing and sales topics, as well as adaptable frameworks and industry best practices. Known for its creation of the Demand Waterfall® framework, which provides marketers with clarity and simplicity for demand generation processes, SiriusDecisions also hosts national and local events that bring together some of the brightest leaders in the industry.
3. Demand Gen Report
Demand Gen Report (DGR) is a publisher and content hub for B2B marketing professionals. The DGR website is a reference center that keeps B2B marketers up to date with demand generation insights, industry news, reports on the latest product innovations, and thought leadership from top industry executives. DGR's in-depth research reports cover many topics, from lead nurturing and analytics to social media and mobile technology. DGR also hosts many webinars and live events each year for continued education and networking.
4. HubSpot
HubSpot is a developer and marketer of software products for inbound marketing and sales. Today, over 30,000 global companies look to HubSpot's CRM, sales enablement tools and marketing services to increase website traffic, convert website visitors into leads, and deliver a measurable ROI. HubSpot's blog, like Marketo's, uses infographics and charts to add color commentary to the stats and processes it provides, highlighting key takeaways. This is a perfect site to pass along to your sales team as well, since many of its posts center on sales how-tos and best practices.
5. Content Marketing Institute
B2B marketers know that content is king, and the Content Marketing Institute (CMI) can help marketers advance the practice of content marketing. This website contains helpful resources, such as white papers, ebooks, podcasts and blog posts, plus info on conferences and events, both live and online. Marketers can also enroll in CMI's Content Marketing University for deeper training in content marketing. CMI is a one-stop shop to help you create better marketing content.
6. BuzzSumo
Social media has proven to be effective for all kinds of marketers, including those in the B2B space. However, marketing across these social platforms isn't always easy — at least, not without the help of BuzzSumo. It's a powerful online tool that allows users to learn what content is popular or "buzzing." That information is key to creating content people will be interested in. BuzzSumo provides you not only with content insights, but also with influencer information: who people are listening to, an analysis of competitors, and what is and isn't working for other marketers.
7. MarketingProfs
This site houses over 700 pages of posts on almost every marketing topic you can think of. If you publish industry thought leadership on your social feeds, make sure MarketingProfs is on your list. In addition to its library of resources on a variety of topics, MarketingProfs also has professional development tools, programs and seminars you can take advantage of to expand your skills.
8. Ahrefs
Are you a marketer challenged with improving your content and SEO? Look no further! Ahrefs is a powerful all-around SEO resource that will assist you in increasing website traffic and creating greater brand awareness through search-optimized terms and phrases. It is a comprehensive SaaS tool primarily used for SEO research and keywords. With this information at your fingertips, you can choose content topics more strategically and gain a better understanding of competitors.
9. Salesforce.com
Salesforce.com is the leading CRM in the industry. This powerful tool is customizable for a wide variety of uses, depending on company size and the needs of different departments. It allows companies to better manage their entire sales process, from the first interaction with a client to the closing of a deal. And with plenty of helpful white papers, blog posts and other resources, Salesforce.com has one of the greatest selections of published content to help improve your marketing efforts across many different areas.
10. Sprout Social
As many marketers figure out the hard way, social media is not simple. Marketers need to consistently publish posts and engage with users across varying networks with diverse demands, and they need to analyze how posts are performing across all those networks. Sprout Social brings all of this into one platform. With Sprout, marketers can queue up and publish posts, engage with audiences, analyze performance and build custom reports. Sprout is an excellent resource for streamlining your efforts across all of your social media profiles.
At The Mx Group, we're utilizing these marketing resources and tools every day. We use Salesforce.com to manage our sales process. We use Marketo for marketing automation, and as Marketo LaunchPoint partners, we know how to get the most out of the platform. We exchange thought leadership content regularly with Demand Gen Report, and we're partners with SiriusDecisions. If you're interested in learning more about any of these tools and resources, please get in touch!