Expert Elevation: How B2B Marketing Can Use Personal Brands to Build Awareness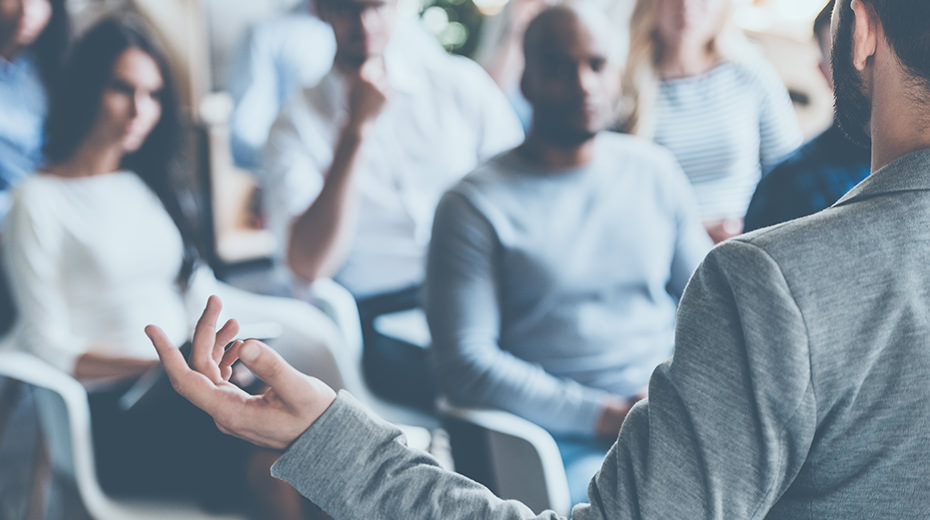 COVID-19 necessitated a dramatic change in the B2B marketing industry. Trade shows and in-person conferences disappeared overnight. We worried about how we'd create and build relationships with prospects without informal means of developing rapport, but we adapted to Zoom connections and continued to find future B2B clients. We all long for a return to normalcy, where we can have face-to-face meetings and join a customer for dinner. Those encounters are starting to come back slowly, and hopefully will become a regular part of business again relatively soon. But I think we all can see that there's no going back to exactly the way things used to be.
That's partly because our clients' buying behaviors were changing even before the pandemic. Digital natives were already starting to become significant buyers of B2B services. We all need to adapt our methods of interfacing with the market to meet their expectations and align with their buying behaviors.
Buyers don't want marketing materials; they want expertise from people they know.
Buyers in the B2B world are confidently following a self-service model where they evaluate the market, understand your value propositions and determine how your services fit their needs. This doesn't just mean you should provide digital content that allows buyers to self-serve. It means you should provide digital content that makes a personal connection. Buyers don't want marketing materials; they want expertise from people they know.
In effect, buyers qualify B2B organizations before they invest their time in you. If you don't provide content that helps them with this process, they'll pass you by.
The Change Is Real, and Permanent
The prediction of a lasting change in the art of sales isn't just based on anecdotal evidence. Research backs it up. Starting in late 2020, studies predicted the evolution of the B2B environment toward an omni-channel method we are witnessing today.
In 2021, a McKinsey study has shown this pattern holding, with omni-channel in B2B sales officially becoming the preferred method: "Eight in ten B2B decision makers say that omni-channel is as or more effective than traditional methods—a sentiment that has grown sharply throughout the past year."
What Do Self-service Expectations Mean for B2B Marketers?
It's difficult to sell via self-service when your offering is intangible. In the B2B industry, customers buy results, people and trust. Customers expect digital access to more information than ever before. They want more proof points, more case studies and a better understanding of your service offerings. This is how they help themselves to the information they need to make business decisions.
That means you need to invest in your subject matter experts (SMEs) to make sure you're getting your expertise out there in a high-quality way. Your customers can smell marketing-speak sales pitches from a mile away, but SMEs can offer the keen insights your customers crave.
...building your experts' visibility can be a big win to help deepen existing relationships...
During this virtual / hybrid era we're living in, many B2B agencies are focusing on existing customers to fuel growth. Helping SMEs within your organization build their visibility will kick-start your trust-building efforts so that when some organizations begin to welcome in-person interactions again, you'll get a priority appointment and make an impact. You'll be better positioned to get in the door both with existing clients and new prospects — and you'll keep lines of communication open with those who continue to primarily conduct business through digital channels.
Of course, trust is earned over time, so this isn't a quick fix. But building your experts' visibility can be a big win to help deepen existing relationships and replace the gains you used to glean from in-person connections. At The Mx Group, we're calling this idea "expert elevation."
It's worth noting that trust in general information sources — such as search engines and social media — has drastically dropped in the past two years, according to the Edelman Trust Barometer 2021. Plus, only 40% of people trust CEOs as a source of information about a company, while 53% trust "a person like yourself." Likewise, a recent Research World article states that "a client will go to an individual in a company to discuss an opportunity, not necessarily the business first."
These insights point to a great opportunity for marketing teams to amplify trust-building insights from their SMEs and executives, which in turn can help support sales efforts.
10 Tips for Expert Elevation Success
So, how can you start working to elevate your experts and sell in a new way? Here are some ideas:
Identify leading in-house experts with unique insights to build business relationships and corporate brand awareness.
Meet with those experts, individually and as a group, to get their buy-in on your expert elevation plan. Explain how it can benefit the business and get their commitment to work with you.
Always use your experts' time wisely to build content and messaging. This how-to guide goes into detail on how to hold effective ideation sessions with SMEs.
Build trust by putting technical experts and SMEs front and center in your marketing and sales materials.
Allow your SMEs to sell alongside sales professionals.
Embrace selling via video conference but remember that Zoom fatigue is real. Find the right balance and defer to client preferences.
Whenever possible, elevate your SMEs' expertise to help them gain visibility and expand their connections on social media.
When your marketing team is working on your SMEs' behalf, ensure they use the experts' lexicon (i.e., don't "dumb down" the content).
Provide SMEs (and salespeople who need it) with coaching on presentation skills, video conferencing etiquette and virtual presence.
Don't be afraid to include details in your corporate bios that represent employees as real people with broad interests. Share how your experts are making an impact not just in your organization, but in the wider world.
COVID-19 accelerated a change to digital marketing and sales in the B2B industry that was already happening. Now is the time to double down on those investments by highlighting your executives and SMEs and elevating them to build affinity and preference for your B2B organization. Their voice is the company's voice. Their personal brand benefits the corporate brand. Making those voices available across your digital channels builds credibility so that the trust is already there when those efforts result in a first meeting — whether it's virtual or in person.