News
SmileDirectClub Selects The Mx Group as B2B Agency Partner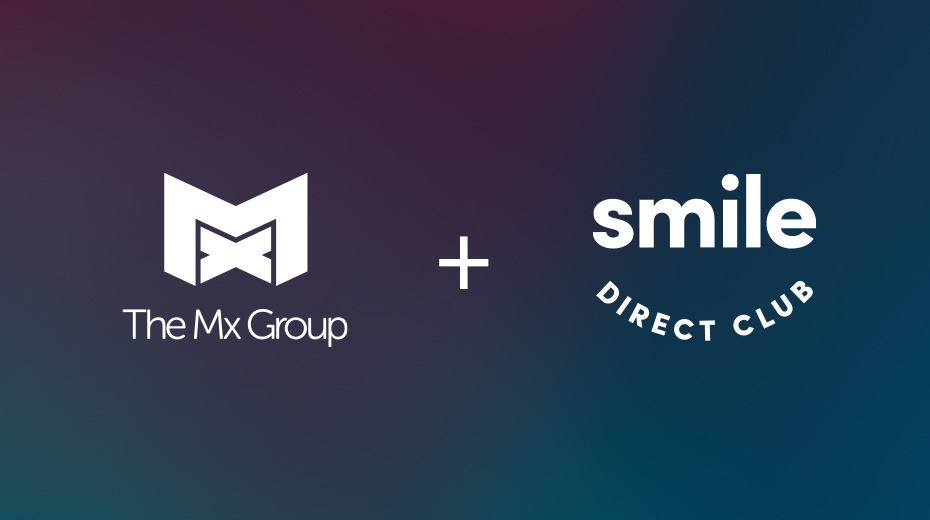 The Mx Group is proud to announce its partnership with SmileDirectClub, the teledentistry company and international oral care leader. The Mx Group is supporting SmileDirectClub's marketing efforts to launch their Partner Network, which allows dentists to offer the brand's aligners to patients.
"We are impressed with how quickly the Mx team has jumped in and learned our business," said Seth Goldberg, SmileDirectClub's VP of brand strategy. "They bring experience and expertise in B2B advertising that complements our B2C activity, powering recruitment into our program and enabling dentists to offer our services to their patients."
In this partnership, The Mx Group will work with SmileDirectClub to identify and communicate the value of its offering for dental practices and provide a range of B2B talent to facilitate content marketing, campaign development, sales education, sales enablement and user experience activity.
"The SmileDirectClub team members are smart, collaborative marketers and true partners, providing us with an all-access pass to their concurrent marketing plans and key stakeholders," explained Lisa Everett, group account director at The Mx Group. "Our team is enjoying working with such a dynamic brand, meeting the challenge of growing the partner program, and enabling partner success. Plus, it's rewarding to work with a brand making such a positive impact on people's lives."
About The Mx Group
The Mx Group is one of the fastest-growing B2B marketing agencies in the country, with a 30+ year history of making an impact on companies that impact the world. We accomplish this by identifying the unique combination of services and solutions that significantly impact a client's revenue and growth. We call this "The Power of X": the transformational experience that seamlessly connects brands and buyers. The Power of X aligns our strategy, creative, demand generation and digital development services, and inspires all of us to propel buyers and businesses forward.
About SmileDirectClub
SmileDirectClub was founded on the belief that affordable and convenient premium oral care should be accessible to everyone. Since its founding in 2014, SmileDirectClub has helped more than one million people transform their smiles through its pioneering telehealth platform for orthodontia. The international oral care leader has hundreds of SmileShops; more than 1000 SmileDirectClub Partner Network dental office locations; a network of hundreds of affiliated, certified dentists and orthodontists; and thousands of team members across the globe. More than 80% of people could benefit from orthodontic care, yet only 1% receive it each year, with convenience and cost being the biggest issues. SmileDirectClub exists to help bridge that gap.