News
2020 WebAward Win!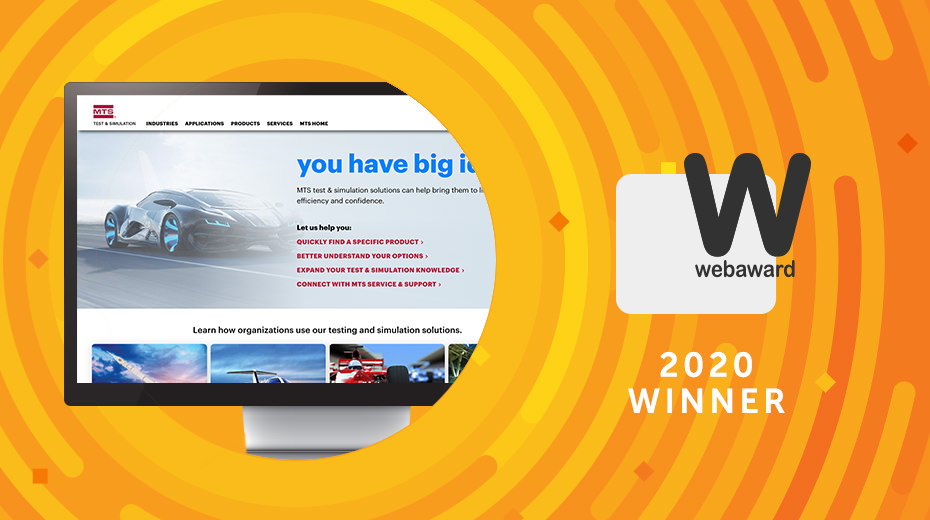 We are very pleased to announce that we have won a 2020 WebAward for Outstanding Achievement from the Web Marketing Association for the website our team designed and launched for MTS, a leading global manufacturer of high-performance testing, simulation and measurement systems.
The site creates an exceptional customer experience thanks to insights from buyer personas.
"These personas were utilized to pinpoint exactly what potential customers were seeking on the site, and to develop appropriate site architecture schema, content strategy and conversion paths," explained Lisa Everett, group account director at The Mx Group. "After that strategic work was completed, the site was then tied together with an extremely cohesive visual design."
MTS' products span across many industries, applications and product types, causing complexity for the website's scale and requirements. We created a "solution finder" to remove friction from the digital buying process and help users easily find products by name, specimen, type and application. We guided the MTS team to select Sitecore as their CMS to support the global, personalization and administration goals. The website was integrated with Salesforce.com, Pardot and Charket for robust WeChat support.
For more information on The Mx Group's website design and development capabilities, click here, or get in touch to discuss your upcoming website project with our team.