News
New Pivotal Hires to Support Major Agency Growth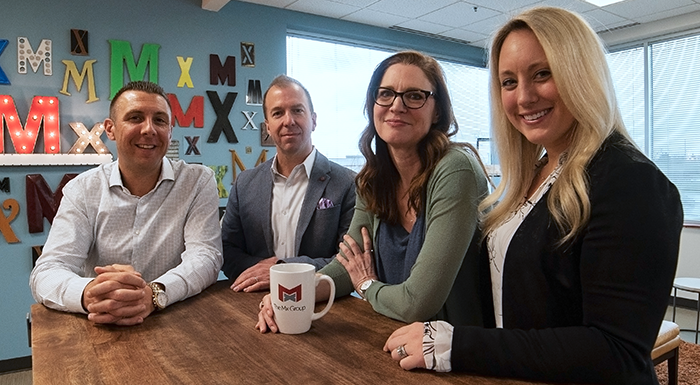 Four new senior employees, along with several other new staffers, have joined The Mx Group at a time of significant growth for our company, which B2B Marketing recently named the #4 B2B agency in the country.
Tony Riley has rejoined the agency as senior vice president after a four-year stint at FCB as a senior VP in account service, manager of their Cultural Innovation Practice, and executive sponsor of Veteran Recruitment. He has returned to The Mx Group with a fresh perspective and a lot of drive. "This agency has been operating successfully for over 30 years, so it's safe to say we have a solid foundation for growth," Tony said. "Our next-generation leadership team is doing an outstanding job building on an already collaborative and vibrant culture … My immediate mission is to help get the right people in place with the right clients to do amazing work."
Tony is used to leading and motivating colleagues. Prior to his work in the agency world, he served in the U.S. Marine Corps and was awarded the Navy and Marine Corps Achievement Medal for his actions during Operation Iraqi Freedom II.
Julie Flanagan has joined us as director of operations. With more than 20 years of agency operations experience at closerlook and W2O Group, she is a pro at building project management teams and implementing supporting technologies. She is poised to help advance agency operations to accommodate business growth and the continued evolution of our full-service offerings. "I was attracted to Mx's long history and the company's interest in evolving structure and processes," Julie said.
Former Accenture and Leo Burnett alum Dan Edwards is the newest addition to our digital team in the role of senior business analyst. Dan was attracted to Mx's long track record as a successful B2B agency, as well as our expertise and experience building complex websites and developing custom apps. "Our client relationships often start on the traditional marketing side and grow as clients see that we're also quite capable of helping them solve many different business problems," he said. Dan joins our team of programmers, technical architects, QA analysts and developers that deliver custom software, mobile apps, web apps, and complex CMS web and e-commerce solutions to address our clients' digital transformation goals.
Finally, Carly Austin has joined the agency as a new group account director to deliver strategy and oversight for our clients' integrated sales and marketing objectives. She has a strong mix of both B2B and B2C account management experience from her prior positions at Anthem Worldwide and Ryan Partnership. "Mx has such smart people working on really interesting business. There's an energy here that I knew I had to be a part of," she said. Carly is looking forward to onboarding new clients and helping to further develop our current client service team members.
During this time of significant growth and opportunity, we are hiring in all areas of our business and looking for exceptional people to continue building on our momentum. "I know the best talent is looking for unique challenges, the freedom to do their best work and support from like-minded people," said Tony. "We have that all here at Mx, and we're looking for more people who have a passion for what we do and who are committed to winning."