News
New Agency President & Partners Named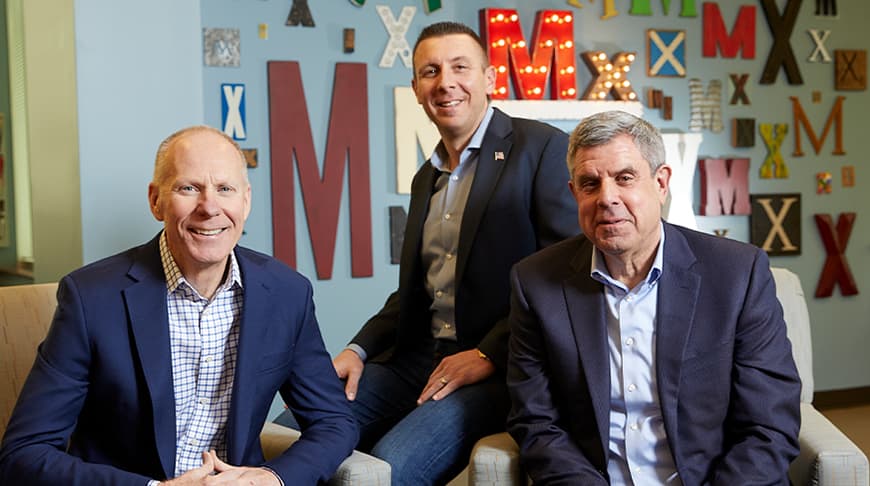 The Mx Group has seen many changes and growth over the last few years. We've added new capabilities, brought on new talent, and optimized processes. We continue to evolve to provide our clients with outstanding strategy, creative, digital and demand gen services.
Part of that evolution is ensuring we have the right leadership in place to take the company into the future. Toward that end, we are excited to formally announce two significant organizational developments.
TONY RILEY NAMED AGENCY PRESIDENT
We are very pleased to announce Tony Riley as agency president. Reporting to co-founders Andy Mahler and Peter Wroblewski, Tony will focus on leading the agency-services side of our business.
"Tony has already proven himself as a great contributor on so many fronts, and he has been instrumental in the development of our global partnerships as well as in attracting top-notch talent," Andy said. "He's also a high-quality person who fits with our values and culture. We are excited for him to bring both his energy and perspective to a broader part of our business."
In his new role, Tony will work across account, strategy, creative, media and production teams to deliver a best-in-class experience and work product for clients. He will also oversee our relationships with our global agency partners to bring scale and specific expertise to clients when needed.
Tony began his agency career after serving as an active-duty U.S. Marine. His experience includes working with a range of clients from startups to Fortune 100s in both the B2C and B2B arenas, covering direct and brand advertising. His ability to create successful sales and marketing strategies is the result of sound leadership, his passion for B2B and a belief in always providing outstanding client service.
"I am honored to take on this role and privileged to work alongside our founders," Tony said. "For more than 30 years we've maintained a steadfast focus on doing what is best for our clients. That will never change, and I envision the services we deliver, the scale and speed with which we deliver, and the quality of our work product will only improve."
We are also pleased to announce that a number of our senior service line and relationship management leaders have been added to our partner pool. The average Mx tenure of this group is 14+ years, and each of these individuals is instrumental in the growth, management and connectivity of our business.
The Mx Group Partners:
Tony Riley, Agency President (previously announced)
Kevin Coe, Senior Vice President of Digital (previously announced)
Kellie de Leon, Vice President of Marketing & Strategy
Lisa Everett, Group Account Director
Kate Fishburne, Vice President of Organizational Development
Tom Hayward, Creative Director
Emily Kleist, Managing Creative Director
Kelly Olson, Vice President of Client Services
Tom Perona, Vice President & Controller
Rick Sebok, Group Account Director
Eric Von Zee, Vice President of Application Development
Miroslav Zugovic, Director of Front End Development & Video