Why Great Work Demands a Great Workplace Culture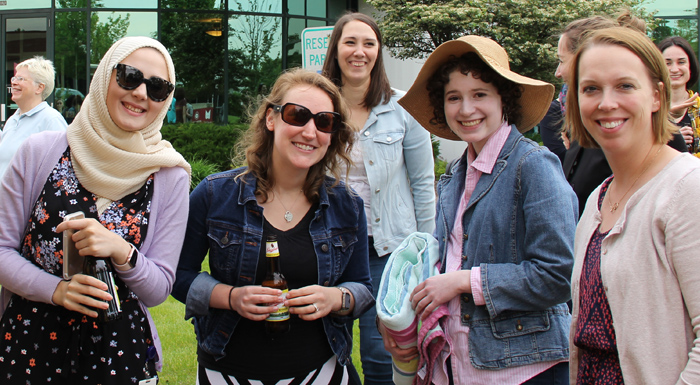 What makes a client stay with a B2B marketing agency for 10 years or more? I can't speak for every client or every agency — but in my experience with The Mx Group, it's our people. As many of our longstanding clients have told us, we get to know their businesses as well as (or better than!) they do, and we earn their trust as business advisors. Of course, this begins with our hiring the right people and creating a workplace culture where our employees can be successful.
Our culture is what sets us apart in our industry. We're not a typical B2B agency by any stretch: With our team of digital developers who work alongside traditional creatives, our in-house telemarketing professionals, and our marketing automation specialists, we have the unique ability to connect disparate functions into cohesive teams and programs that drive results. Hiring and retaining people with different backgrounds, interests, special skills and motivations — and then ensuring they'll work together collaboratively and communicate effectively — takes effort. When we landed on the Chicago Tribune's Top Workplaces list for the second year in a row, it was a reinforcement of something I already knew about this special group of people: This just isn't a culture you commonly find in the B2B (or any kind of agency) arena. It has as much to do with what our employees bring to the office every day, personality- and energy-wise, as it does with what this environment offers them in return.
Our employees stay with us much longer than the industry average: 57% of our team members have been with us for 5+ years — and 24% (myself included) for 10 years or more! That's in stark contrast to the every-two-years job-hopping pattern that's become the norm. It also flies in the face of a highly competitive B2B staffing environment, which I've seen intensify over the years. But even when competitive options tempt our tenured employees, we find they often (thankfully!) come back to us.
Why people stay … and come back
After four years here, Senior Traffic Manager Kim Ostrowski left to test her wings at another agency. What did she find there? "A lot of people who had an every-man-for-himself attitude. Nobody asked questions, because they were afraid of looking weak. People weren't friendly, and work didn't get done."
When she came back this year, it was because "I missed the whole atmosphere at The Mx Group — being part of a group of people who all feel comfortable asking each other questions, where I know everyone is accountable and wants to get things done right. I really feel I can depend on them all. That's a huge difference."
Senior Account Manager Cristina Sarnelli, a two-and-a-half-year veteran of The Mx Group who moved to another agency last year, had a similar experience. "I liked acquiring new skills and working with different kinds of clients. But I wasn't benefiting at all from the environment. After a year there, I was ready to go somewhere else."
Of all the places she could have gone, why did she come back here? "It was like coming home. Here, there's a sense of camaraderie and teamwork I just didn't find when I went away. The management team is interested in you, and wants you to develop and grow. So when my previous manager at The Mx Group — probably the best manager I've ever had in my life — asked me if I wanted to come back, I had to."
5 ways we're making our people happier
Since our culture provides us with so much competitive value, we probably shouldn't be giving away the keys to the store. Still … we'd rather live in a world where all employers treat their people really well. In that spirit, here are five ways we've created a culture employees rarely want to leave:
Fostering collaboration: We all know (and have likely worked at) agencies rife with politics and bureaucracy. From day one, we've chosen to keep our agency free of those roadblocks. Our founders set the tone by forming a welcoming team of individuals open to new ideas. Today, our friendly people learn each other's "languages" so thoroughly and enthusiastically, I'm constantly inspired by how much they teach each other and how much their constant collaboration contributes to our overall success as a company.
Selecting the right candidates: Of course, we want to choose the people with the best skills and experience. But that only goes so far: Each person must also be a good fit for our culture. Those with a punch-in-punch-out personality, lack of initiative or low energy probably won't succeed here, and we keep that in mind while recruiting and considering offers of employment.
Making respect a cornerstone: Simply put, we treat everybody the way we'd like to be treated. We live up to our company value of "service to the team over reliance on the team," so everybody feels supported — whether they need a hand with an extra-heavy workload, or simply want a partner to stand with them in presenting a new idea. If someone needs flexibility in the daily schedule, or to work remotely once in a while, there's room for give and take. In general, there's reciprocal respect between departments as well as up and down the hierarchy.
Maintaining a healthy mix: Our legacy employees provide continuity for our culture and exemplify what works for us. Meanwhile, our newer hires bring fresh blood and new ideas. And as I've said, we have people in this company who never thought they'd be working shoulder-to-shoulder with some of their current colleagues, simply based on their seemingly unrelated fields. Whether we're talking about tenure or talent, it's our diversity that enables us to deliver, and we take pride in it.
Promoting transparency: In my role, and across the senior management team, we solicit feedback from our employees and factor their perspectives and recommendations into our decision-making, however and whenever possible. That means we have to make sure they feel comfortable being honest with us, so we do everything we can to earn their trust. Every other month, we meet as a company to share revenue reports, pipeline updates, notes on our progress toward our goals, new things we're considering trying, and areas where we need employee input the most. This level of transparency shows them how much their input is valued and acted upon, so they're more inclined to continue providing it.
As we continue to grow, we're always on the lookout for top-notch talent to join us. Check out our Careers page to learn more!