Secrets to Trade Show Social Success Part 1: The Early Bird Gets the Retweets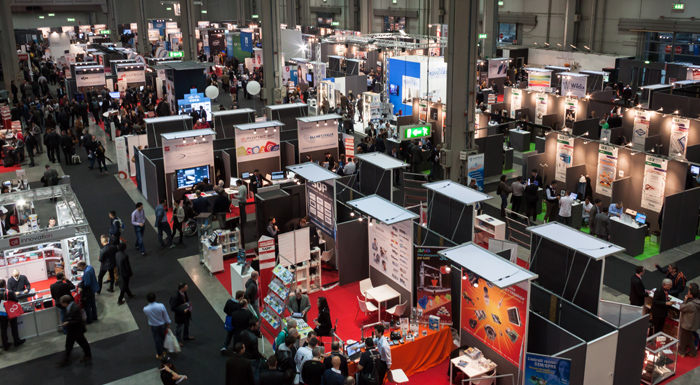 Trade shows are golden opportunities in the B2B space. An effective show presence can drive a year's worth of business in a few days, and new leads generated on-site provide meaningful connections for weeks and months afterward. But before that can happen, your whole company — marketing, sales, PR, designers, thought leaders — needs to work together seamlessly. Your communication channels should be operating at the speed of thought, diffusing a unified message that will drive engagement and generate new business connections. And there's no better platform for this kind of messaging than social media.
Social engagement is a forerunner of brand engagement, and trade shows are the perfect opportunity to generate relevant and memorable content that will engage your audience. But there's more to a trade show social media plan than booking one of your team members a plane ticket and sending them off, hashtags blazing. Social is a platform, not a solution, and will fail without the proper nurturing and strategy. Don't assume it will take care of itself. In this three-part series, we'll discuss the ins and outs of implementing a social campaign that drives traffic — and measureable results.
First things first: Start early. The time for down-and-dirty planning and networking comes before the show begins. Here are six tips and tricks to help you prepare:
1. Prime your team.
For some, retweets and likes may seem like a waste of time. For others, "retweets" may not even sound like English. Right from the beginning, make sure your team is on the same page. Consider bringing everyone up to speed with a mini-seminar on basic do's and don'ts for Twitter, Facebook and any other platform you plan to use.
2. Decide on a strategy.
On average, 500 million tweets are sent every day. You're doing no one any favors by adding empty, untargeted content to the pile. What are your specific goals? Are you promoting a recent rebranding? A new product launch? How many new leads do you plan to generate? How much more traffic will you bring to your booth? Clearly express the value of your initiative, and develop a cohesive, goal-oriented plan to achieve it.
3. Find the right outlets.
Is there an event hashtag? If so, engage regularly. You should be a visible part of the conversation, established as a key player well before you arrive on-site. If you plan to develop your own unique hashtags, now is the perfect time to do so, and to set up guidelines for when and how your team will use them.
4. Find the right influencers.
Networking isn't just for the show floor. Interacting with industry giants (and by extension, their formidable social followings) expands your social reach exponentially. Curate a list of key influencers and industry leaders, and get to know them before the show.
Remember, social media is about building relationships — and like any other relationship, it's a two-way street. Don't expect a speaker or an ally to engage if you only reach out when you want something. Retweet and share their content, and comment on show-related posts. If possible, establish direct contact by phone or email — a heads-up between two social media managers goes a long way and makes connecting easier when the event starts.
5. Polish up your profiles.
Show-focused profile photos and banner images make your pages fresh and timely. Make sure to prominently display your booth number and information about any presentations you'll be giving. Having a visual reminder of where and when you'll be around will keep you at the top of your followers' minds.
And give the profiles of your brand leaders some attention as well. When attendees and potential buyers search for the speakers and thought leaders who inspired them on the show floor, they shouldn't land on a Twitter page or LinkedIn profile with incorrect information or branding. Make sure profile pictures, images and brand information are sharp and accurate.
6. Choose your rep wisely.
Don't assume just anyone can manage your program. Your product reps might know your talk track better than anyone, but if they're booked with sales responsibilities they'll drop social media from their to-do list in a flash. And anyway, they're at the show to sell, not socialize. Designate someone with the bandwidth and experience to engage intensely across your social channels, and make sure they're aligned with every team's goals and can nail the right voice for your brand.
In Part 2, we discuss how these tips set the stage for where the real fun begins — the show itself.