PMI Podcast Wins Gold at w3 Awards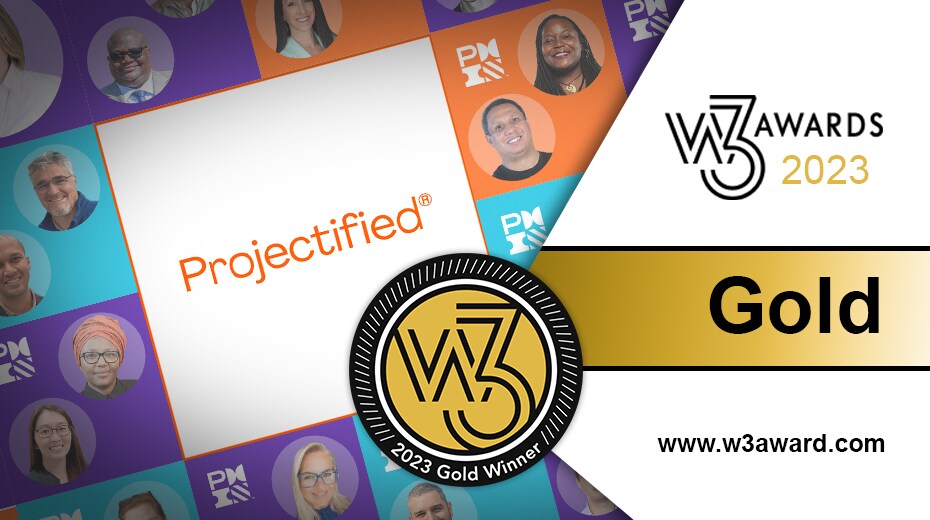 The Projectified® podcast won a gold award in the 18th annual w3 Awards, a globally recognized competition "illuminating brilliance in digital experiences, content and creativity." Produced by the Project Management Institute (PMI) and its content partner, The Mx Group, Projectified explores the world of project management, featuring forward-looking discussions across a range of topics, from innovation to agile techniques to career development.
The w3 Awards aim to "honor the unsung heroes of digital creativity who create imaginative and boundary-blazing work day after day." The awards are presented by the Academy of Interactive & Visual Arts (AIVA).
"PMI is delighted to receive an award for our Projectified podcast," said Adriana Macontre, director of content marketing and social media at PMI. "We'd like to thank the AIVA jury for this recognition, as well as The Mx Group for their collaboration. We, at PMI, are committed to empowering professionals to excel in project management practices."
The podcast — with more than 150 episodes leading to more than 1.9 million downloads in over 180 countries — has enabled us to share knowledge and the latest trends impacting the profession during the past three years.
Macontre went on to say, "PMI initiatives like Projectified, combined with our best-in-class certifications, drive positive change in organizations and communities around the world, and the team is excited to continue exploring critical topics shaping the profession and sharing insights on how to navigate the future of project management together."
Each episode provides insightful conversations, real-world case studies, and tips for professionals looking to enhance their project management skills and knowledge. With an extensive library, Projectified has become a leading source of information and inspiration for project professionals.
About the w3 Awards
The w3 Awards honors creative excellence on the web, and recognizes the people behind award-winning websites, online marketing, web video, mobile sites and apps, social, podcasts, and emerging tech. In honoring the best of the web, the w3 Awards is the first major digital competition to be accessible to the biggest agencies, the smallest firms, and everyone in between. Small firms are as likely to win as Fortune 500 companies and international agencies. Having just finished its eighteenth season, the w3 Awards received thousands of entries globally from advertising agencies, PR firms, digital agencies, in-house creative professionals, web designers, and graphic designers.
To learn more about our work with clients like PMI and how journalism-driven content and podcasts can increase your brand's awareness, contact us.