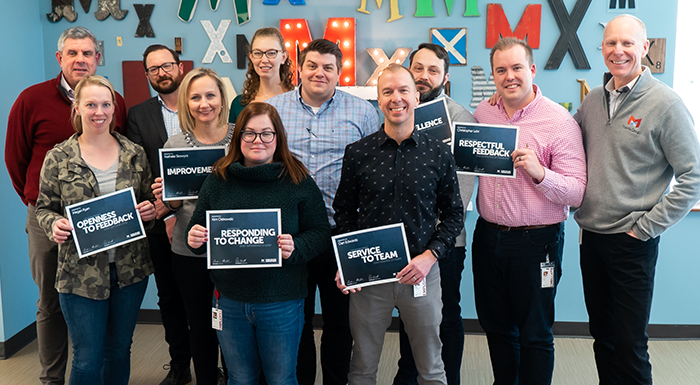 It's 2020! And even though my morning commute doesn't look like the Jetsons', it's very clear that many things in the work world are changing, including the makeup of today's workforce. You've probably seen the statistics about millennials becoming the largest generation in the U.S. labor force and read about how flexibility, management transparency and a company's values are crucial when it comes to employee retention and satisfaction. In fact, I just read that McDonald's CEO Chris Kempczinski launched a new Instagram page earlier this month, stirring up a publicity blitz about his plans to be a transparent leader who recognizes and leads by the burger brand's core values.
Here at The Mx Group, we've been championing the idea of core values for many years. And they aren't just lip service or copy for our website. They're a thoughtful set of contrasting statements designed to impact our everyday actions, and remind us that we're working at a unique marketing agency.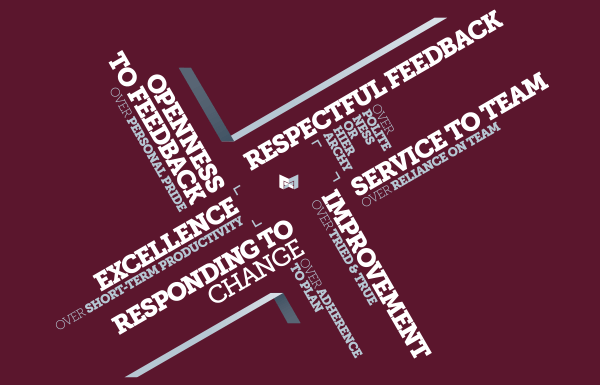 You'll find our core values displayed on various walls throughout our building, but the real proof that we take them seriously is our Core Values Awards nomination program. Throughout the year, we invite team members to nominate colleagues who demonstrate the core values in their daily work. This reinforces our vision of living our values each day in the way we interact with each other, our clients and our partners.
As 2019 came to a close, we held the annual celebration of our Core Values Award winners at an all-company meeting. "This is the first year I was able to submit nominations for my co-workers, and I made sure I didn't miss out on the chance to do it," said Christopher Lehr, a newly hired Mx client services leader. "It's really a special thing we do at Mx, and I wanted to make sure I was a part of it."
This year, Mx'ers submitted more than 40 nominations of their fellow co-workers, providing a story or details surrounding how / why that employee should be recognized. Here's a recap of this year's winners.
"Excellence Over Short-term Productivity" Winner:
"Improvement Over Tried and True" Winner:
"Openness to Feedback Over Personal Pride" Winners:
Megan Ryan
Allen Morgenstern
"Respectful Feedback Over Politeness or Hierarchy" Winner:
"Responding to Change Over Adherence to Plan" Winners:
Kelsey Miller
Kim Ostrowski
"Service to Team Over Reliance on Team" Winners:
Congratulations to all our nominees and winners! As a top-ranked, rapidly growing B2B agency in the Chicago area, we are always looking for talented people to join the team. If you are looking for an opportunity to join a values-oriented group, I invite you to check out our Careers page! We're currently hiring for positions in many different areas, including designers, copywriters, developers, client services professionals, marketers, business analysts and more.