Increase Blog Traffic with These 4 Tips!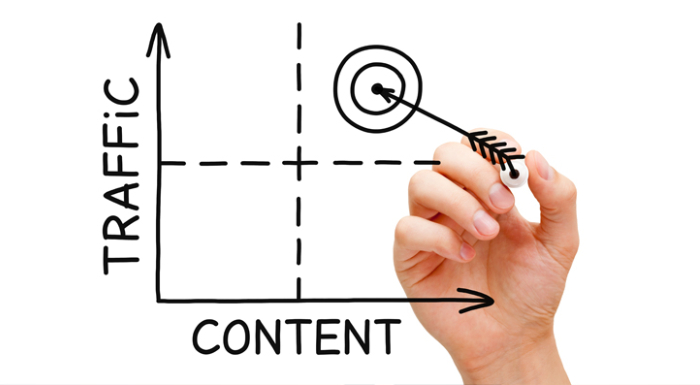 Creating great blog posts is a highly important task when it comes to content marketing. From mapping them out to making them real, you invest a ton of time and energy hunting down SMEs, getting their input, doing your research, crafting outstanding copy and perfecting your titles. It's all worth it when you increase blog traffic and generate new demand and awareness for your products.
But if your posts seem to be languishing in a black hole, don't despair! This isn't always a reflection of quality. What it may actually mean is that you need to rethink your strategy to maximize your content's effectiveness.
LEVERAGE THESE FOUR TIPS TO INCREASE BLOG TRAFFIC AND HELP YOUR AWESOME CONTENT GET THE ATTENTION IT DESERVES:
1. Optimize – No matter your industry, you're probably competing with a sea of other content. Help yourself stand out by reviewing your blog posts for the following basic SEO best practices.
Choose a dedicated SEO keyword or phrase. Remember that sea of content? Your blog posts are probably buried pretty far down in search results. If you want to rise to the top, you need the right SEO keyword or phrase. Match highly searched phrases to the content that addresses those queries. Rephrase blog post titles, URLs and intro paragraphs to accommodate the dedicated keyword.
Cross-link. Blog posts shouldn't exist on an island. Use each post as an opportunity to link to other relevant content on your website. This way, your readers can learn more about topics relating to your post. This not only increases traffic to the rest of your website, but also allows the reader to self-serve — and eventually convert, if the information they find is useful to them.
Analyze traffic. Traffic and engagement are some of the best indicators of how well your blog content is resonating with your readers. Keep tabs on which topics are getting the most traction and expand on those with additional content.
2. Test – Don't stick with the tried and true; challenge your own assumptions on the best way to reach your audience through simple tests. You can gather valuable insights by testing:
Hooks and blog post titles. Which titles draw the most attention? The answer may surprise you.
Offers. What does your audience respond to best? A demo, free quote, meeting with an expert, free assessment?
Headline formats and themes. Does your market respond to a sense of humor, or do matter-of-fact headlines resonate more strongly?
Imagery / graphics. Experiment with your image selections and test to see if certain image types gain more attention than others.
Blog post length. Does your audience prefer short 300-word posts or long 1500-word articles?
Rich media. Test to see if adding relevant video content or infographics increases traffic to your blog posts.
3. Repurpose – Even great content gets stale. The message might be as meaningful as ever, but if social media users and web searchers are sick of seeing the same format, it's time to change things up. This doesn't have to equal the original effort it took to create your content; you can efficiently repurpose existing blog posts to tell refreshed stories.
Sift through your blog archive for content that's still relevant — you could find great opportunities to refresh and republish posts. Look for content that has received a lot of traffic that you could improve upon, or existing posts on topics you really want to attract traffic with but that may need better keyword focus and content updates.
Transform non-blog assets into blog posts. You can expand upon a small piece of content; for instance, you could take a succinct section of a well-performing ebook and develop it into a blog post. Alternatively, you can pare down a piece of content to its essentials: Make an easy-to-use checklist out of an ebook, or a brief "here's what you need to know" article out of a long case study.
Look at the top questions from your webinars. How about turning those into a Q&A-style blog post?
4. Promote – You can't just post content to your blog and hope it gets found. Take a few extra steps and:
Submit your blog post to relevant aggregator sites that regularly publish content and newsletters in your industry.
Get social! At minimum, share on LinkedIn. Don't have time for much social sharing beyond that? Make sure you understand which channels your audience is most active on and focus your efforts there.
Tag social influencers and sources mentioned in your blog post. There's a good chance they'll notice and re-post.
Feature your blog posts on multiple pages of your company's website, as well as through other internal and external communications.
Notify your company when a new blog post goes live, so your colleagues can share it.
Don't waste your valuable thought leadership! You'll increase blog traffic and engagement from customers and prospects when you implement these tips to get the most out of your blogging efforts. And if by chance you need content marketing assistance — from strategic planning and SEO to building a new resource library — get in touch! Our team of strategic content specialists can help you with all your content marketing needs.