Every company wants its website to convert visitors, whether you define conversion as a sale, a lead or merely as someone viewing a lot of the site's pages. Many consumer companies, especially ones that run eCommerce websites, engage in serious analysis and optimization of site conversion. Business-to-business marketers have just as much, if not more, at stake. A visitor to a B2B website is likely to be part of a decision-making process for a substantial transaction, so it is critical that they have an optimal experience that moves them down the sales funnel.
Beyond Web Analytics
Analytics data only goes so far when it comes to site conversion intelligence. Tools like Google Analytics and Adobe SiteCatalyst will show areas with high bounce rates, clicks and drop-offs in the conversion funnel, but they don't show what's drawing user's attention or help discover more effective conversion element placements. The data provided by heatmap and A/B split testing software provides critical insight into how users are interacting with your website, and where the site needs improvement.
The goal of most B2B websites is to convert a visit into an inquiry. There are multiple paths users can take to get there — some will show up just looking for contact information because they're already interested in doing business with you. Some will need to know who you are and will want to browse your services. Some will consume your education and thought leadership content before considering doing business.
Knowing how users interact with your website is key to identifying optimal customer conversion element placements to make them easily accessible. When a user lands on your website, they are seeking information. Ensuring they can effectively locate the information they are seeking creates a positive user experience. Using testing software like heatmapping and A/B split testing allows you to monitor where the user's attention is drawn to, and test multiple page variations to discover how to put your most important content and conversion elements in places the user pays attention to. Website testing software enables you to track user interaction through the conversion funnel, and discover areas needing improvement.
Heatmapping
One of the most powerful tools in the arsenal of B2B marketing professionals is heatmapping software. Heatmaps enable marketers, designers and developers to monitor mouse movements, clicks, scroll reach and attention. Knowing where your visitor's attention is drawn is key to converting them into customers and creating an overall better user experience. Converting elements such as contact forms, email subscribe buttons and thought leadership download links are some of the most effective conversion elements for B2B websites. If no attention is drawn to these key elements, your website may be providing a poor user experience.
On the other hand, if most users click through to a product or service page, but their attention is drawn to non-converting elements or unrelated pages, this may suggest the need to redesign the page. Conversion optimization not only entails meeting the information needs of your visitors in an understandable and accessible manner, but also making the next steps clear and easy for them. White papers and videos are useless unless users can easily locate contact information afterward. If users click through to the careers section of your website, but most drop off halfway by going back to the homepage, these are missed conversion opportunities because your content was either ineffective or not placed in easily-accessible locations. Heatmapping software such as Clicktale offers conversion funnel visualization and heatmaps to monitor drop-off points in the conversion funnel.
A/B Split Testing
After noticing that little attention to converting elements and big drop-offs in the conversion funnel, the next step is determining how to re-architect your content and element placements to make your pages more effective. This is done through A/B split testing. A/B split testing involves creating multiple variations or positions of elements on a page, serving up a random sampling of both to users, and determining which variation is more effective.

Let's take a look at The Mx Group's homepage. Hypothetically, we might want more attention and clicks drawn to our new ebook, Compressing the Prospect-to-Customer Lifecycle. While the other items in our featured area are important, we believe downloading our ebook will provide more value to users, and will convert them into customers much more effectively than other company updates. With that in mind, we may decide to perform A/B split testing with a variation of the homepage where the ebook download is emphasized.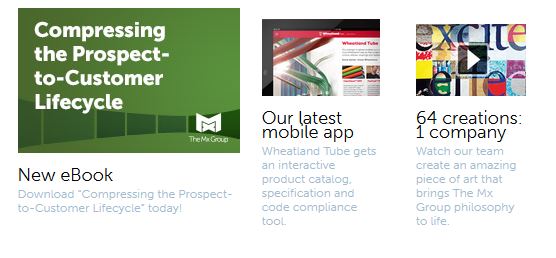 Using one of several testing tools — we prefer Optimizely — we can create two variations of the homepage: the current layout and a layout where the ebook download is emphasized. When users hit the homepage, half of them will see the current layout, while the other half will see the variant layout. After a couple weeks running the test, we are able to determine whether more people downloaded the ebook with the current layout or with the ebook emphasized.
Using actionable data to improve user experience
Data provided by heatmapping software will tell you how users behave on your website, and where they are struggling to find the information they're searching for. If no attention is being drawn to key content or converting elements, the user experience is poor. On the other hand, if your converting elements are placed in attention hotspots, but users still are not converting, A/B split testing allows you to determine more effective content and placements to help visitors continue down the conversion funnel.