Everything's going mobile in 2013. Is B2B going there too?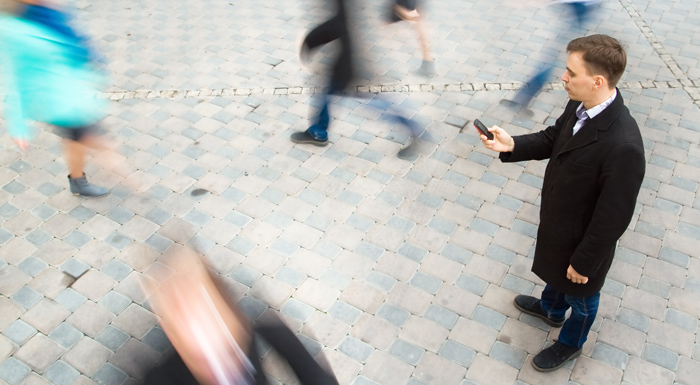 B2B marketing often feels a few steps removed from consumer trends. B2B sales are influenced by a number of decision makers, and big organizations are not always comfortable riding technology's razor edge. While many consumers are on their fourth or fifth iPhones, some companies are wondering if they should upgrade the last of their employees to BlackBerry devices. Maybe you even still have a fax machine in your office–you know, just in case the internet goes away.
The two most recent disruptions in the world of marketing are social media and mobile technology, but their relevance to B2B sometimes feels tenuous. B2B organizations have an inherent resistance to these disruptions because:
1. They find it difficult to see the correlation between social media and business
2. They are slow to adopt new technology before it is enterprise-ready
Yet despite these blockers, B2B's resistance to social media and mobile apps is eroding faster every day.
Social media meets mobile and deep knowledge sharing

Four important trends are affecting B2B
1. People are learning that it's faster and easier to rely on their social networks for information and opinions about important purchase decisions than to research it alone.
2. Social media is not confined to the personal computer anymore. Thanks to smartphones and tablets, it is accessible almost anywhere.
3. Social media platforms are evolving beyond social sharing into information sharing. Linkedin and Quora are great examples of hubs for deeper expertise exchanges rarely seen on Facebook.
4. The line between work devices and personal devices is disappearing.
B2B purchasing decisions are informed by a great deal of research and consultation with experts who have been there, done that. Historically, these interactions have been sporadic, rigid exchanges at conferences and trade shows. As social media becomes more widely adopted by B2B companies, however, improved continuity and fluidity will emerge.
Slow technology adoption meets BYOD
You may have already noticed a "bring your own device" (BYOD) trend in your own office. Increasingly, employees bring their own devices to work rather than using whatever IT gave them. They do this for a few reasons:
1. To maintain access to personal mobile apps and services
2. To use the same device at work and at home
3. To avoid carrying a work device that's not authorized for personal use
4. To avoid having to learn how to use two different devices
Employers, on the other hand, have different drivers for this behavior. They believe that BYOD:
1. Opens up new mobile workforce possibilities
2. Reduces or removes additional expenses
3. Increases employee satisfaction
Gartner, a leading information technology research company, released a research report on May 1, 2013, that indicates this is no corner case, either. Here are a few text bites:
● 70% of mobile professionals will conduct their work on personal smart devices by 2018
● 38% of companies expect to stop providing workplace devices to staff by 2016
● BYOD is most prevalent in midsize and larger enterprises, often generating between $500m-$5bn in revenue per year, with 2,500-5,000 employees on the roster
Apple analyst Benedict Evans describes mobile as "eating the world".
So if you are trying to decide whether that B2B mobile app that you've been considering is really a good idea, and if you are not yet convinced that your markets and personas are really going to rely on mobile at work, I would say: "Skate to where the puck is going, not to where it's been."
In the near future—if not already—everyone involved in deciding whether to buy your product will have a smartphone at work. They will read your emails on it. They will view your website on it. If you are ahead of the pack, they will interact with your services and products through it—further embedding the value of your organization in their everyday lives.
re you making company expertise available and indispensable to your customers every day? Are you seamlessly connecting past sales to future sales? Are you nurturing your brand's social networking influence so that others can reinforce and share your message with each other? Are you leveraging technology to do all of this continuously, reliably and inexpensively?
It's no longer about whether mobile is a good idea. It's about whether your mobile idea is good.