B2BMX — The Tech vs. Human Puzzle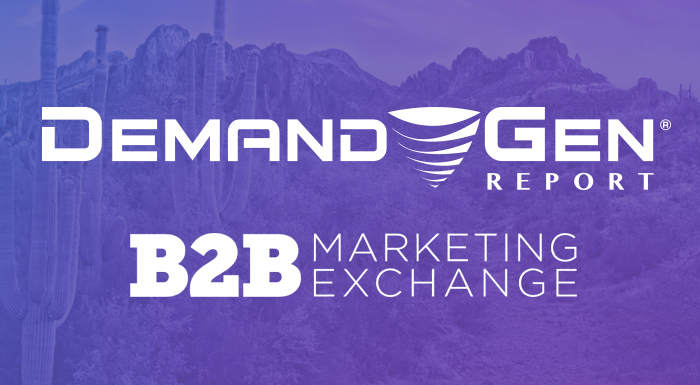 I've been reflecting on the great time we had at B2B Marketing Exchange (B2BMX) in Scottsdale, AZ, last week. While the chilly temps were disappointing, the conference exceeded expectations! Kudos to the team at Demand Gen Report for putting together a valuable, action-packed agenda. While the ideas are fresh, here are some of my top takeaways from the conference.
Humanizing B2B
It can be easy to forget, in this data-charged world we work in, that business buying is still done by humans. I think this was the biggest theme I noted throughout the week. And while we're all human, it's also important to acknowledge that we are NOT our customers. It's important to stay attuned to your customers' priorities, needs and habits. Personas are a great way to get inside the minds of your customers to figure out how to make meaningful connections. Not sure where to start? Check out our webinar: Putting Personas to Work.
In addition, many presenters during the week spoke to the pressing need to respond to B2B buyers' expectations that are shaped by their B2C experiences.
Personalize — but don't be creepy
Personalization was a big buzzword at B2BMX. As marketers, we have more and more tools at our disposal to gather intel on our customers and use it to automatically personalize their experience. This is great news, but with great power comes great responsibility! We must be careful to use personalization in a contextual way, acknowledging the difference between how well we know the customer and how well we SHOULD know the customer.
It's important to evaluate whether we're using personalization to deliver a relevant experience for the customer, and to measure its impact and ensure it's worth the cost. I actually think the best digital personalized marketing can't beat a simple, handwritten note. Which brings me to my next point…
Direct mail is "back from the dead"
If you asked me, it never died, but I may be the most old-school millennial you'll ever meet. Case studies, presentations and booths in the B2BMX Marketplace showcased the power of direct mail. In a world that's flooded with email and digital experiences, low-tech, high-touch direct mail can be a game-changer. And, it's especially relevant in the world of account-based marketing, where breaking through with top prospects is critical.
From on-demand options that fit seamlessly into multi-channel journeys to dimensional direct mail that breaks down attention barriers, B2BMX was bullish on direct mail. Interested in some real examples? Check out a dimensional direct mail campaign we did for one of our clients that had a big impact.
Interactive is big
No surprise here, but as much as direct mail is having another day in the sun for its special kind of interaction, interactive content is all the rage. We know much of the buyer's journey is digital, and all signs point to customers delaying interactions with Sales even longer than before. But buyers still need the same information to educate themselves and evaluate their options — they just want to be in control of that experience.
Interactive content is a great way for marketers to function as advisers, a principal role in the emerging assistance economy. With everything from data visualizers to calculators to product configurators, interactive content can help fill the gap of lost sales conversations. Check out our ebook on interactive content tools to see real-life examples and determine which option fits your needs.
It takes more than tech to make it work
Many sessions (and plenty of booths in the Marketplace!) were filled with technology promising to increase everything from productivity to leads to closed deals. And while these technologies can change the game, many presenters reminded us that tech isn't the one and only answer.
In fact, it takes people + process + technology, in concert, to constitute a truly effective modern marketing operation. Presenters cautioned against being seduced by the "bright, shiny object," and recommend focusing on functional elements and ensuring you've fully audited and leveraged your existing tech stack before you buy more.
And many of the marketers I talked to bemoaned the "tech soup" they're drowning in. There are too many logins, too many siloed tools, and too many investments being underutilized. While many marketers are planning to test AI in 2018, there's also a "back to basics" mentality of thinning out your tech stack and making sure you're focused on the applications you get value from. Are you struggling with some of martech's broken promises? Check out our ebook for tips.
ABM is on fire!
In fact, there are so many takeaways about ABM, stay tuned for my next blog about it!
P.S. Feeling like you missed out? If you couldn't make the event, but are interested in my presentation decks on operationalizing ABM or creating interactive content tools, shoot me an email at [email protected]!