A Summer Internship at Mx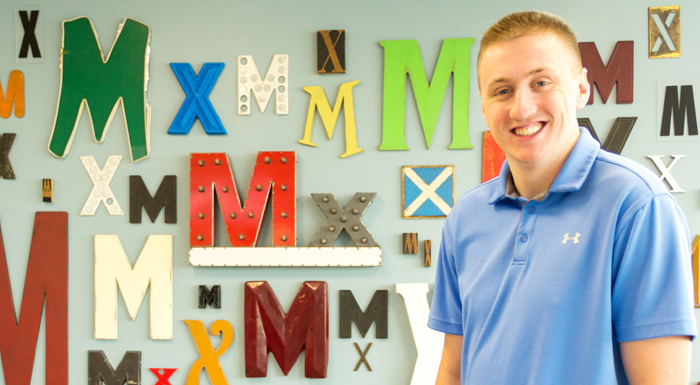 As a college student, you hear a lot about internships. Your professors bring them up. Your parents bring them up. Your classmates bring them up. In this day and age, an internship with real experience is almost a must-have for getting a job after college. Luckily for me and my classmates, these days internships are more about doing real work and less about making coffee runs. Halfway through my junior year, I reached out to Peter Wroblewski at The Mx Group and I have not looked back.
The experience I gained from this internship began before I was employed. I had experienced mock interviews before, but the interview conducted by the professionals here forced me to think on my feet with some questions I wasn't expecting — I really had to sell myself as a high-quality and qualified candidate. After the first interview, the agency reached out to set up a second-round phone interview, which filled me with both nervousness and excitement. It obviously went well; otherwise I wouldn't be here months later writing this post.
What did I like most about being an Mx employee? The people. I interacted with many during my three months here, and none of them treated me like an intern. They treated me like a valued member of the team, and always mentioned that they were there to help if I had questions. In addition, The Mx Group has created an amazing workplace culture. Employees get flexible schedules and summer hours. The company runs contests and activities to make sure there's never a dull moment around the office. The top executives are accessible, which you don't find with a lot of companies. And of course, I wouldn't be a college student if I didn't mention the free craft beer fridge. On top of all that, the employees here know how to have fun while getting their work done. We conducted a pun contest open to all employees that didn't halt productivity at all. It's also not uncommon to hear people joking around with one another during meetings, yet work still always comes first.
In my specific role with the marketing team here at The Mx Group, I never came into work to do the same mundane tasks for 40 hours each week – I was always working on something new and challenging. I was given plenty of responsibility as a member of a team. As the summer went on, I was also given some of my own projects to complete from start to finish, and making something out of nothing with your own hands is an awesome feeling. I appreciate that I was given a wide range of assignments: I wasn't stuck in one role, but rather got to be a "jack" of all trades.
First things first, I learned how to work 40-hour weeks. I don't think this is something they were intending to teach me, but it sure was something I desperately needed to learn. Before this summer, I thought 20-hour weeks were a heavy workload … boy, was I wrong. Next, I got to see projects come together from start to finish. I shadowed co-workers on their projects, and I got to be a part of some others. I really saw how teamwork and communication matter, and how many people it takes to bring a project together. I got to work with social media metrics, touchpoint metrics, and marketing automation, three fields I believe are only going to grow in marketing, with technology constantly improving and expanding.
I also assisted in website redesign by analyzing the websites of other companies in the marketing world. This allowed me to gain insight into how companies advertise their work, their services and who they are. I even got to work on social media marketing, which was a big deal for me as it is a career path I've been considering , and is a crucial part of my answer when asked about my dream job. I got to analyze the social media practices of other companies, track social media metrics, and even write some of the posts for The Mx Group for a few weeks. By getting to work on various projects and in different roles all summer, I really added to every aspect of my skillset as a candidate for future job opportunities.
To end this, I want to thank some people, including my brothers in ENT, my professional fraternity, who have helped me expand my professionalism in terms of interview skills, resume-building, business attire and much more. I want to thank Pete, Andy, Suzanne, Nina and Austeja here at The Mx Group for giving me the chance to gain all of this experience. And of course, I want to thank the entire Mx family for making me feel like a welcome and valued part of the team. It has truly been an incredible experience!