3D Rendering: Cost Savings, Time Savings and Control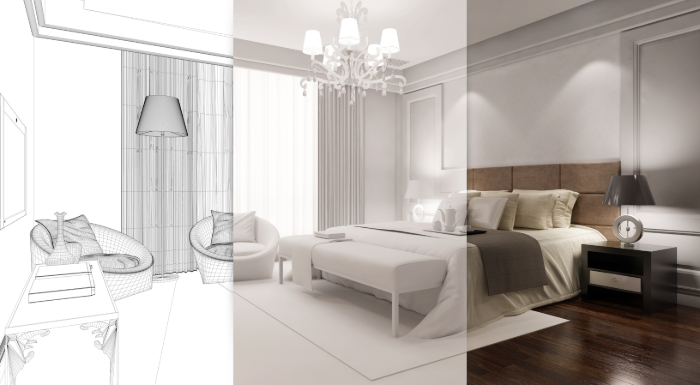 You know the drill: You have a new product you're introducing to your audience, so  you need eye-catching, high-resolution images of it for your website and marketing collateral. What's the first thing you and your team plan for? A photo shoot. The problem? Photo shoots are time-consuming and expensive, and they often don't yield the results you're after. The solution? 3D rendering, a digital process that quickly and cost-effectively creates three-dimensional, photorealistic visualizations or models of a product that can be used again in a variety of ways.
High-resolution Images at Your Fingertips
3D rendering is a lean marketing tactic that allows for faster turnaround on projects and can result in the creation of a large library of product images you can access anytime. And while there is an initial time investment to create a rendering, the output is well worth the effort. To make the process faster and easier, our team utilizes existing CAD files from the product manufacturing process. The resulting 3D models of a product or set of products then exist in a digital format, allowing for super-high-resolution shots from a variety of angles and views, including exploded views for added visual interest.
Agile Adjustments in Minutes
Manually photographing different iterations of a product or changing the atmosphere around it often requires additional photo shoots (and all the expenses and headaches that come with them). With 3D rendering, adjustments can be made in a matter of minutes. Your marketing capabilities become more agile as you can easily pivot to create different image variations for multiple collateral types, including tradeshow signage, print and digital ads, videos, white papers, case studies, catalogs, presentations and interactive website content.
We're finding that the use of 3D rendering is especially relevant in the industrial manufacturing space, where companies are still using printed catalogs and may need hundreds or thousands of photos of their products. We can create one model of each product and digitally repurpose it hundreds or thousands of times, whether that means changing the product's size, color, texture or environment.
Cost Savings, Time Savings and Control
3D rendering allows for more control than traditional photo shoots — something that's especially beneficial when the budget doesn't have a lot of wiggle room. 3D rendering also takes significantly less time than photo shoots and reshoots. Many B2B product lines have several size, color and texture variations. Capturing the different angles and views to properly showcase the components can be tricky, leading to extra time during and after the shoot, which multiplies the budget. With 3D rendering, you have complete control of how every image looks and how products are presented.
See 3D Rendering in Action
We recently turned to 3D rendering to create room scene images for our longtime client Tempur Sealy. Traditionally, Tempur Sealy scheduled photo shoots to capture these types of images. This time, instead of physically setting up and then tearing down a mock hotel room, we created a digital model of a room and undressed mattresses. The digital set included textured surfaces and appropriate lighting to make it feel realistic. With this process, there was no need to plan a photo shoot, spend hours making sure we captured the right images, or wait for retouched images. The team at Tempur Sealy was able to review the images quickly, helping to speed up the project — which came in on budget.
Tempur Sealy was extremely happy with the final results and the control they had over the process. They now have a virtual set that can be used for future room scenes or solo mattress shots. The mattress can be moved to any angle, and the team can adjust small details they might not be able to easily alter in traditional photography, like wrinkles in the mattress and props in the room.
Not only that, but the 3D rendering was instrumental in the creation of Tempur Sealy's award-winning sales enablement tool. The interactive tool had the ability to zoom in on "unseen" product features that couldn't be captured with traditional product photography, resulting in a view of the mattress that was impractical to show during customer demos in the past.
While photo shoots have their use, when it comes to B2B product marketing, 3D rendering reduces many of the challenges marketers face when creating digital visual libraries of their products. By taking advantage of this service, our clients gain the benefit of having relevant, efficient and easily updatable product libraries at their disposal.
If you're looking for a way to start digitally transforming the way you create content, 3D rendering is definitely a strategy to consider. Reach out to us today to learn how 3D rendering can help your marketing efforts.