10(ish) Top Insights I Took Home from Content Marketing World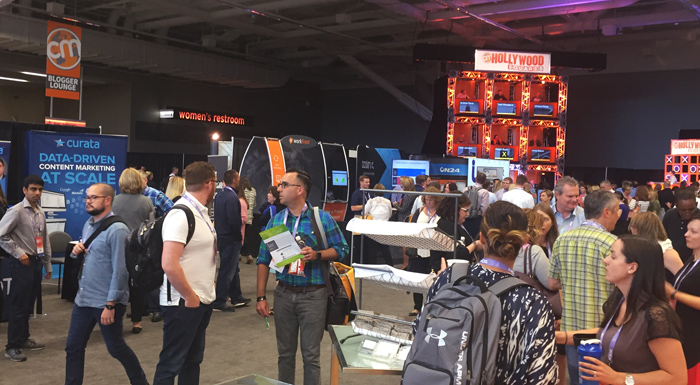 Content Marketing World 2016 ended a few weeks ago, but its digital ripple effect continues. And with all the information that came out of Cleveland from September 6–8, it's no wonder the blog posts and SlideShares keep coming. I learned too much to sum up in a single takeaway — so I've tried my hand at collecting 10 top insights from the sessions I attended.
Here goes!
1. No content is better than bad content. Joe Pulizzi kicked off the conference with this simple yet profound statement. If you're creating content your customers don't want — or, worse, that pushes them away — you may as well keep quiet. Sure, marketers are still figuring out the evolving technology landscape and how to keep feeding the ever-hungry content monster, but bad content is a greater liability than ever. No more excuses. Let's get it right.
2. The best content doesn't win — the best-promoted content wins. Andy Crestodina is always razor-sharp in his delivery of what we need to know to be great marketers, and his keynote didn't disappoint. (Notice I said "marketers," not "content marketers." But that's a soapbox for another blog post.) He shared the importance of both creating and sharing original content. To maximize shares and promotion, marketers should focus on creating unique or rarely documented points of view or analyses.
3. Answer your prospects' top questions. In the end, it's not the quantity of the content you put out that matters. It's the relevance of what you create. The whole point of creating content is to provide value for your prospects. Know the top questions your customers ask, and answer them. It really is that simple.
4. Process is your friend. With an increasing number of complex media channels and content types at your fingertips, good processes are essential. Sounds obvious … but this is still an issue for many marketing organizations, big and small. It's tempting to blame technology for mismanagement, but really, the solution is offline and fundamental. To increase efficiency and efficacy, your process must address the who, what, how and why for all content you create.
5. Semantic is the new search. Some marketers might be more familiar with this than others; either way, it's an important concept to get right. Semantic search is about focusing on searchers' intent more than their specific wording. This is a key way to start speaking your searchers' language. If you improve the relevance of your content, even if it feels like you're including indirect phrases to do it, you have a higher chance of engaging your audience.
6. Agile makes you more, well, agile. I attended a small session on Agile marketing — and I know that in a couple of years, sessions like that will be standing-room-only. Our brethren in software development have already discovered the power of Agile methodology to approach complex tasks in a more structured and nimble way. Now it's marketing's turn. Wondering what Agile marketing might look like in action? I recommend reading this marketer's description of her "first 100 days on Agile."
7. RIP, homepage. The homepage isn't the center of your website universe anymore. Sure, some people may enter through this comforting front door, but more likely than not, they're coming in to a specific page they discovered through a search engine. That means your site needs to meet the needs of specific information searches — and it needs more pages, not fewer. As Andy Crestodina said, "We used to save the user clicks like we were saving whales, but not anymore." For example, no more all-encompassing, vague "Services" page. Each service must have its own page. No more "Our Team" page. Each team member should have his or her own. Your site's "Thank You" pages are critical to get right, too. After all, you just converted a site visitor. Why not make the most of an opportunity to do it again?
8. Ranking 0 can be better than ranking 1. Content's goal was always to be the top organic post in search. But now that Google wants to answer more search questions natively, they're packaging content at the top of the page — and sometimes they use the most relevant post to provide that information. Why not work to make it yours? Ironically, this may reduce clicks to your content, but being seen as "the ultimate answer" delivers real value to your company.
9. Brand still matters. Even in the age of digital and automated engagement, effective branding is still critical. Authentic and likable brands engage more and are shared more with others. The power of social networks and advocacy comes from a strong brand.
10. Treat all your content pages like landing pages. Each page on your site is an opportunity to advance your prospect's journey. Design your pages to provide information and engagement opportunities. Make sure every page delivers on the promise that brought your audience there, and always highlight your product. (Yes, even if it's an ebook. 3D rendering can make anything look amazing.)
Bonus: Expert advice. I attended a panel of leading content marketing experts, and I heard some insights that were too good not to share. Carla Johnson stated that marketers must approach growth as a business leader would. Michael Brenner said that we underestimate the importance of seasonality in B2B.
So much more went on at the event — these are just a few of the ideas and insights I picked up. To get more information, check out other CMWorld blogs from a couple of my colleagues (I recommend George Stenitzer and George Rafeedie). I was also inspired to write a manifesto for marketing on the plane ride home.
So much content generated from a content conference! Who would have thought?