Challenge
U.S. Cellular relies on its sales team to educate current and prospective customers on how the company's solutions can solve their business challenges. To help them do that, we created a multitude of educational content the sales team could pass on to their customers. The problem was, the content wasn't easily shareable, so Sales wasn't distributing it as frequently as they (and the marketing team) wanted.
U.S. Cellular needed a way for their sales reps to quickly and easily distribute their new content to current and prospective customers.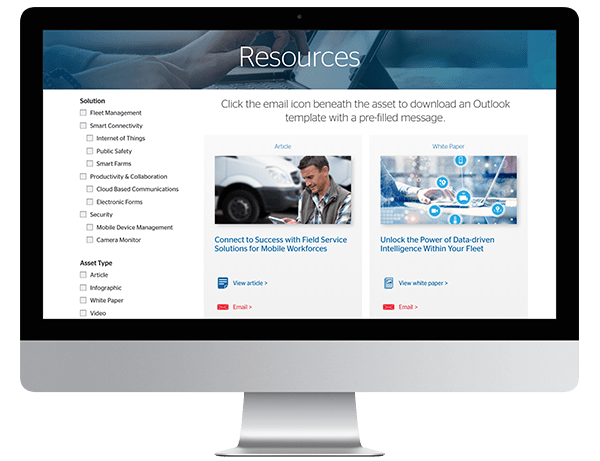 Solution
Sometimes, the simplest tool can be the most effective one. To encourage the distribution of U.S. Cellular's new content, we designed an online sales enablement tool for U.S. Cellular sales reps that served as a major content distribution booster straight out of their B2B website's resource hub. At the touch of a button, this new tool allows sales reps to log in and send pre-written emails and content to their customers directly from the U.S. Cellular site — helping them avoid the hassle of navigating file attachments. It even allows sales reps to filter the content choices they send based on relevance to specific industries and personas!
"A great example of collaboration and teamwork to enable a fantastic tool for the sales team!"
Impact
The new online content platform is seeing immediate results and a hugely positive reception from the U.S. Cellular sales team. Business Channel Vice President Jim Anetsberger called it "a great example of collaboration and teamwork to enable a fantastic tool for the sales team!"
Nearly 70% of sales reps have adopted the platform, using it to distribute content to their prospective customers. The platform is now a highly utilized tool for the U.S. Cellular sales team, helping them nurture existing customer relationships and create new ones.
Interested in getting a sales enablement project started? Get in touch with an Mx expert. Hoping to stay up to date on the B2B industry? Subscribe to our blog.