Digital
Sales Enablement Tool Garners 90% Adoption
Challenge
Every good salesperson wants to show off their goods — especially when they've gone to great lengths to sit down with a busy B2B prospect in person. But when what you're selling is as large and heavy as a mattress, that's easier said than done. For years Tempur Sealy's hospitality sales team would make do with physical mattress sections cut to show options of coil, foam, fabric types and more. But these physical samples were expensive to make, hard to carry around, and not always on hand when a rep wanted to do a demonstration for a hotel / hospitality buyer.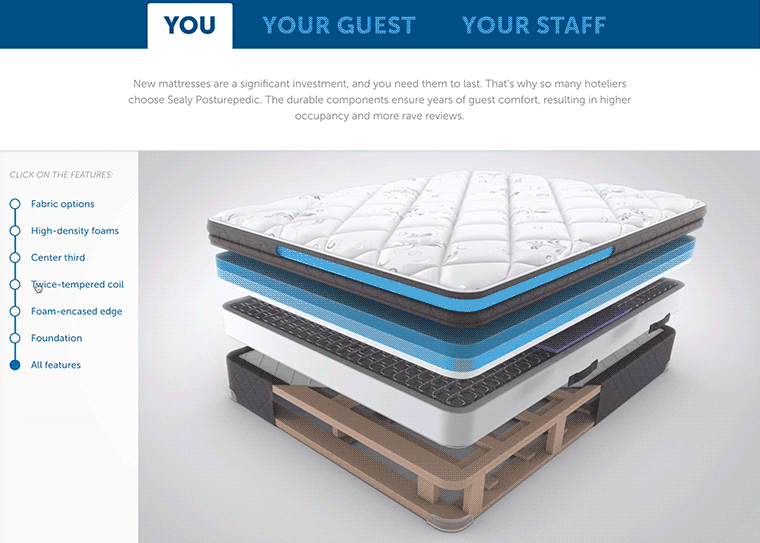 What the sales team wanted was a tool that delivered a virtually hands-on experience sharing the details of every mattress option in Tempur Sealy's hospitality line — but available on the fly, with no heavy lifting required.
Solution
We recommended an interactive mattress cutaway tool to help enable the sales team. Now, all a rep needs to bring to a meeting is a tablet and / or laptop, and they can deliver a perfect 3D view of their products: mattress layers, fabric and materials options, as well as everything else critical to a hospitality buyer's purchase decision. This sales enablement app has also served as an engaging piece of interactive content Tempur Sealy uses on its website, in sales communications, at trade shows and at conferences.
Impact
In a survey conducted three months after the tool's launch, 90% of reps said they were using the tool frequently or all the time. Some comments from the survey:
"The tool works perfectly for my presentations. I would like the same for [our other product line] Stearns & Foster."
"This is a great tool for showing the construction of the mattress. It fulfills its purpose well."
"I love it all and my customers have appreciated how it brings the mattress details to life for them."
The Tempur Sealy marketing and sales teams have found the interactive mattress cutaway tool so effective, they asked us to create a similar tool for their Stearns & Foster brand.
For today's B2B marketer, interactive content becomes part of a connected strategy. Tools such as these can be used in trade shows, as sales enablement tools, and more, and the content within them can be repurposed and used in a variety of mediums going forward. Interactive content is not a one-stop shop, but is instead a key player in a company's integrated marketing strategy.
Interested in getting a sales enablement project started? Get in touch with an Mx expert. Hoping to stay up to date in the B2B industry? Subscribe to our blog.
AWARDS
Looking for a partner?
We help brilliant B2B businesses think bigger and perform better. Don't hold back; bring us your toughest challenges.
Let's Talk!
Looking for a career?
We're drawing more top talent to our team every day. Come be a part of the biggest thing happening in B2B.
View Job Openings