What's Working? Proof is in the Numbers.
Your marketing team has brilliant instincts for engaging buyers. But these days, instincts aren't enough. Every day, marketers are on the hook for the hard numbers. Engagement metrics. Lead counts. ROI. Marketing has always been part art and part science … but in order to tackle the science side, you need the data and analytics to know what's working, iterate and optimize.
We dig into the digital assets of your business and your competitors to better understand your customers, your offerings and your competition. We ensure you have a plan to utilize your customer data, and track and measure response to create more personalized, impactful marketing.
Insights for Now, and What's Next
We know B2B moves fast, so you have to move faster. Our team of technologists and analysts will ensure you have the data you need to make the right decisions, right now. We organize data into detailed reports and summary-level dashboards to provide visibility across your operations: program performance, pipeline status, and Marketing's impact on the bottom line. And we can also help you with demand forecasting, market mapping and projections to help you determine your next move.
Attribution, Analytics and Reporting
You can't improve what you can't measure, so our cross-system reporting capabilities go beyond basic activity metrics to provide deep, actionable insight. We'll work with you to implement a measurement framework and ensure the correct attribution strategy is in place.
Our deep understanding of data and marketing technology means we can make sure all your systems are working together to create a unified view of your customers and your sales and marketing operations.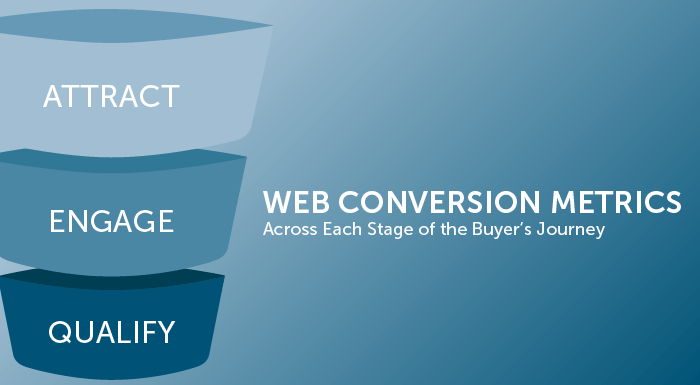 Web Conversion Metrics Across the Buyer's Journey
What types of web conversion metrics should you be measuring for each funnel stage? This infographic provides a snapshot.
Effectiveness Reporting and Analytics
We often see too much time and reporting focused on the activity level and never really connecting it to what really matters for the business. We believe B2B marketing programs should be measured by their ability to move business goals. While there will always be important marketing initiatives that fall outside of measurable business goals, our fundamental approach to reporting and analytics is grounded in a focus on demand generation. Some of the most important measures of our effectiveness on your behalf will come in the form of:
Total impressions delivered
Total leads generated
Total pipeline generated
Closed deals
Revenue ratios
Tactic and media effectiveness
Territory summary reports
Database health
Engagement metrics (social media metrics, website behaviors, etc.)
Website Analytics
Websites are full of valuable data, and we help you leverage it to evaluate and improve performance and results. First, we build a foundation, implementing tools like Google Analytics and Visual Website Optimizer into a website. Then, based on your strategic goals, we determine which metrics matter most, such as click paths, site time, downloads and more.
We build regular and on-demand reports around these metrics, so you'll always be in the loop. And they're more than surface-level insights: We provide audience information, visitor behavior, campaign and content performance, and more. Who visited your site? What did they do? What's driving conversions, and why are visitors bouncing? We'll provide the answers, revealing what's working — and providing actionable insights for conversion optimization.
Our Expertise
We work with many technologies and languages. Here are just a few of our capabilities and partners:




Looking for a partner?
We help brilliant B2B businesses think bigger and perform better. Don't hold back; bring us your toughest challenges.
Let's Talk
Looking for a career?
We're drawing more top talent to our team every day. Come be a part of the biggest thing happening in B2B.
View Job Openings