Clinton, Quinn and Durbin Join Wheatland Tube in Celebrating American Manufacturing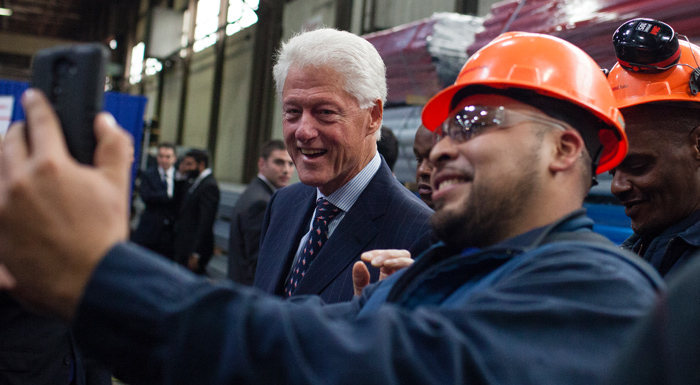 Chicago steel pipe and tube manufacturer JMC Steel Group hosted U.S. Senator Dick Durbin, Illinois Governor Pat Quinn and former President Bill Clinton for a fundraiser at the Wheatland Tube plant yesterday afternoon. Hundreds of people, including dignitaries, labor and business leaders, local supporters, media and Wheatland Tube employees, gathered to watch Durbin, Quinn and Clinton speak about local manufacturing and its critical role in driving the country's economic recovery.
JMC Steel Group CEO Barry Zekelman kicked off the event with a speech that highlighted the use of Wheatland Tube products in some of the most recognized structures in Illinois — from stadiums and arenas to schools, highways and bridges. He spoke to the importance of Chicago manufacturing and the industry's ability to provide rewarding careers for skilled workers. By expanding job opportunities, he said, the manufacturing sector could help speed the country's economic revitalization. Barry noted, "For every dollar spent in manufacturing, an additional $1.32 is put back into our economy."
Governor Quinn echoed these sentiments, saluting manufacturing companies such as Wheatland Tube that are actively hiring. Illinois has created more than 40,000 jobs in the past few months alone, Quinn said, which has helped reduce the state's unemployment rate to 6.6% — the sharpest drop across all 50 states. Quinn ended his speech by saying, "All of us should be custodians of the future. We need to be thinking of tomorrow; Americans should be thinking about tomorrow. And that future starts with jobs."
President Clinton closed the event with an impassioned speech about how the 70,000 manufacturing jobs created over the past few years have contributed to the country's economic recovery. Clinton said, "We want the future to work like [Wheatland Tube] does. If we invest in training, if we compete for manufacturing jobs, if we don't let other countries take advantage of us in these trade deals, we help make sure everyone has a fair chance and is able to take advantage of the available opportunities. But we have to do this together."
The keynote speakers drew impressive crowds, but the event's guest of honor was Chicago manufacturing. We're truly privileged to work with great clients like JMC Steel Group, and we're grateful to have been part of an event that illuminates the important role local manufacturers play in our country's economy.