Modular Web Design: Faster, Cheaper & Better Than Ever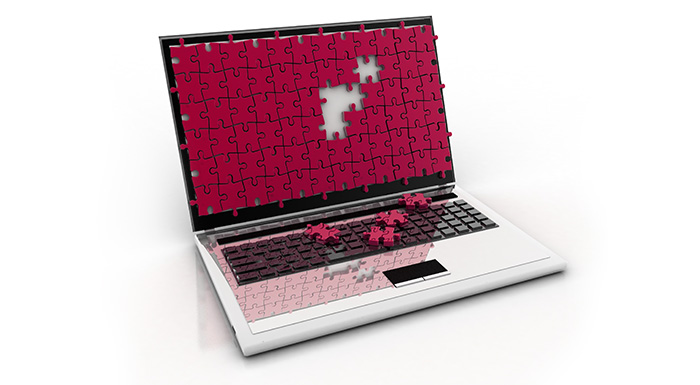 "Faster, cheaper, better" has become a mantra of sorts for many successful businesses in this digital age, and it's something our B2B web development team takes to heart. With a combination of deep expertise, vast experience and a lot of creativity, we're saving time and money for B2B clients across a wide range of industries by utilizing a modular web design approach that embodies all three of those attributes.
Differing Development Approaches
As you likely already know, web development spans a broad spectrum, from totally custom on one end, to cookie cutter on the other, with client needs and budgetary considerations driving the decision. Custom websites are completely unique, like snowflakes, but they represent the most expensive method, as everything must be created from scratch. This method is best suited to situations where radical individuality or brand identity is required. On the other end of the spectrum is the cookie-cutter site: lift-and-shift endeavors that cost less and go live quickly. A cookie-cutter site reuses assets from an existing site and looks virtually the same as its predecessor.
For most of our B2B clients, their web development needs fall somewhere between snowflake and cookie cutter, and that's where the modular web design approach pays the biggest dividends.
What Is Modular Web Design?
Modular web design is taking "pieces" of a design and fitting them into blocks visually. Websites are created from templates, which are full-page layouts that provide the structure for individual webpage types — home, overview, contact us, products, etc. These templates are used to create all additional pages of the same type throughout the website.
Each template contains different types of content blocks to achieve different goals, e.g., to drive a user action or to provide product specs. These are the modules, and they are the key to our approach. The conventional method of website development focuses on creating additional templates for each new goal or objective. The modular approach introduces another layer of granularity by focusing on the creation of client-specific module libraries that can be used across a variety of different templates.
The Opportunity for Endless Configurations
Modules are reusable and can be easily mixed and matched. And when we tie in a content management system such as WordPress on the back end of a site we develop, marketers or their site administrators can create new pages quickly and easily using drop-down menus and existing templates. And talk about versatile: A library of 30 modules represents the potential for 155 million different configurations! With our deep experience creating B2B websites, we can also offer clients valuable advice on which configurations drive the highest conversion rates for different objectives.
Delivering on "Faster, Cheaper, Better"
Beyond allowing for endless configurations and continuous improvement, modular web design also delivers on all three aspects of the "faster, cheaper, better" mantra:
FASTER: New webpages, and even entire sites, can be built with existing templates and assets from the client's module library using a drop-down menu. When utilizing the modular approach with a CMS like WordPress, speed really comes into play because copywriters or clients themselves can go directly into a module and add or change the content whenever needed. And, because the modules had gone through the QA process when originally built, the QA step can be eliminated when changes are being made to a page. The net result is a significant increase in the site owner's agility and ability to react to changing market conditions.
CHEAPER: The modular approach maximizes spend to provide a stronger ROI and lower total costs in the long run by minimizing the cost of coding, QA, and backend work without sacrificing a high-quality outcome. You can use the savings to create new content and conversion paths, and efficiently optimize all your website assets.
BETTER: The emphasis on reusability leads to a more purposeful and consistent site with greater functionality for administrators. Users start to realize that when they see a particular piece of content, it usually leads to something else specific, such as a downloadable asset, a product page or a deeper piece of content. Consistent user experiences drive more conversions!
Website development is a pillar of B2B marketing today, but you don't have to reinvent the wheel every time you need a new website or page. If the prospect of injecting some "faster, cheaper, better" into your web development projects sounds appealing, let's connect, as our modular process might be just what you're looking for. Together, we'll ensure that your website achieves both the individuality of a custom website and the efficiency of a cookie cutter.