It's A Mobile World. Why Should B2B Marketers Care?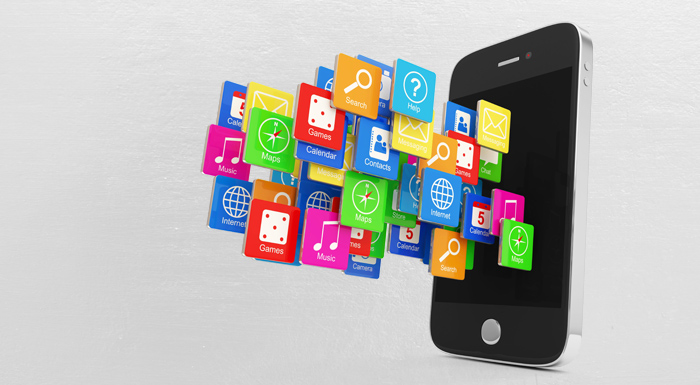 Many articles have been written about the "mobile revolution": how it's shaping the future of shopping, what it means for today's marketers, etc. We get it. And we know you do too. But even though it's no longer breaking news, mobile still shouldn't be ignored — especially when it comes to B2B marketing.
After all, mobile offers us endless opportunities to connect with our audiences in new and meaningful ways. The efficiency and immediacy of mobile apps fits well with the fast-paced business world, making it easier than ever to embed our products and services in our customers' day-to-day lives.
But to build and maintain real momentum, B2B marketers have to stop approaching mobile as a passing trend. We have to adapt to the changing technology landscape. Because mobile is here to stay, and that's a good thing.
Mobile has our attention
Though we still refer to them as phones, the mobile devices we carry in our pockets and purses began evolving beyond telecommunications a while ago. Text messaging honed our dexterity, apps stepped in to simplify our actions, and mobile optimization became the industry watchword. Today we spend far less time talking than we do tapping.
Having the Internet at our fingertips has doubled the time spent online since 2010. And although smartphone use in the U.S. is dominated by the 25- to 34-year-old set, more than half of adults 55 and over have also adopted the technology. Meanwhile, the age group in the middle (30–49) is leading the pack in tablet usage, and tablet users spend an average of 50 percent more time online than PC users. It's estimated that, by 2016, 70 percent of mobile users will regularly conduct business on their devices.
What this means is that, no matter who your target demographic is, a mobile strategy is essential to your success. "Hitting them where they live" now means reaching your audience while they wait in line at the grocery store, while they sit in traffic, while they take their lunch break and so on. By developing a mobile app they can't live without, you can embed value at every stage of the sales cycle.
Bad design is a deal breaker
Most companies understand the importance of having a website that's well-organized, engaging and easy to navigate. Yet, in many cases, mobile optimization is still treated as an afterthought. When 85 percent of adults believe a company's website should be as good as or better than their desktop site, a nonresponsive site makes users feel like an afterthought, too.
We spend so much time on our mobile devices that nearly half of consumers say they won't return to a website if it doesn't load properly on their mobile devices. So if your "mobile" site is sporting tiny buttons, broken links, hard-to-read headlines and a general sense of disorganization, you're losing leads without any hope of re-engagement. Make your mobile site a resource unto itself — not just a miniaturized version of your full site — and your users will reward you with return visits.
The B2B connection
Today, more than one in three U.S. technology decision-makers read B2B content on mobile devices as well as desktops. It's becoming more common to consume B2B content on mobile devices because now users can take it with them. What might begin as a quick scan of an email at the office turns into a deeper examination of product info, feature comparisons, prices and reviews once we step away from our desks.
Already, 53 percent of B2B executives download and run branded B2B mobile apps, which means the market is already there — B2B vendors just have to catch up. Do you already have your plan in place, or are you not sure where to start? Reach out to us and we'll be happy to help.