Are You Making this Common B2B Marketing Mistake?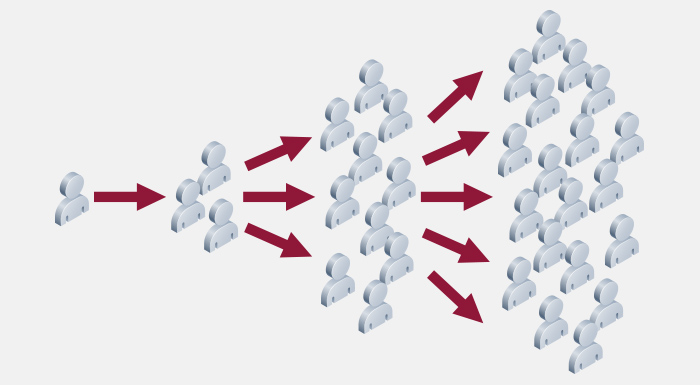 In the intro to Contagious: Why Things Go Viral (a book I highly recommend), Jonah Berger tells a story about a publisher sending him not one, but two promotional copies of a book. As a professor, he received promotional copies of books frequently, but he had never before received two copies at once. Berger, of course, would have no need for a second copy himself, so the accompanying letter asked him to pass the second book over to a colleague. The point of the story was how this approach can help build targeted word of mouth and improve pass-along by getting recipients to target someone in their network for whom the product would be relevant.
This story got me thinking about the concept of influencing the decision chain in B2B marketing. This mailing wasn't just targeted to a professor; It was also targeted to someone he might be able to influence. It's a compelling concept. How often are we, as marketers, thinking about influencing our prospects only as individuals, not as part of a group?
Have you ever sent two direct mail pieces in one envelope to a prospect? Probably not. What about brochures? If someone fills out a form on your site and requests product literature, should you send them two copies, one to pass on to their boss? It's rarely done, but worth considering.
Multiple Decision Makers
B2B purchasing decisions are rarely made by one person. There are multiple influencers and decision makers, and even the person who controls the budget is going to share the responsibility for the decision with his team.
While all B2B marketers understand this, few marketing programs are fully tuned into this reality. I have found that B2B marketers don't typically give adequate weight to influencing the entire decision spectrum. That is, they look at prospects and leads as individuals, but don't pay enough attention to the larger decision dynamic within a company.
Certainly a lot of companies target their messaging to different roles and levels within the company — technology, marketing, purchasing, the C-suite, etc. But ask yourself: If I do get one of these people interested, if I have a champion within a prospect company, am I providing him with the resources he needs to convince his colleagues?
Here are some ways you can empower your champions and help move the purchasing decision forward.
Influencer Assets
It's important that you provide your champions with tools that will help them convince their colleagues and bosses that purchasing your product or service is a good decision. You should make it as easy as possible for them.
A great example is the "letter to your boss" template. These are common on conference websites.
When you convince someone at a prospect company that they should consider doing business with you, are they on their own when they send out an email to their colleagues and supervisors to justify their interest, or are you providing them with some proven language they can start with?
Tools
Tools such as ROI calculators are great ways to engage your prospects and help make the case about the value of your product. These tools can be invaluable to your champions in the influence chain as well. It's one thing to tell your boss that you have a new solution that will save the company money; it's another thing to show him actual numbers.
These tools don't need to be complicated; they just need to put a tangible value on the potential return of doing business with you.
A few examples of ROI calculators:
cisco.com/assets/sol/bn/flash/benefits_roi_calc
solarwinds.com/npm-roi-calculator.aspx
An Influencer Site
Complicated selling cycles often involve multiple documents — from brochures and sell sheets to custom calculations, proposals and SLAs. You should be doing everything possible to help your prospects keep organized throughout the process and facilitate easy sharing among decision makers. Custom influencer sites (typically password-protected) can be highly effective tools, allowing a prospect easy access to all of the information they need to make an informed decision and convince their colleagues.
Trial
As I've mentioned in a previous post, free trials can be extremely valuable in selling certain types of services, especially SAAS offerings. Whenever possible, let your prospects try before they buy; there's nothing like tangible results to make your case. Don't be stingy with free trials — give your prospects the time they need to fully evaluate your solutions.
In B2B, we are often focused on the recipient as if he's the only decision maker. Getting one person in the influence chain to support doing business with you is only the tip of iceberg. The next step is getting them to help you sell to the full range of decision makers. You should make it as easy as possible for them. Empower your champions to make your case.
How well do your marketing assets support the champions in your influencer chain?